Nashville, Tennessee is known as Music City. It's where many celebrities started their careers and is home to some of the best venues. While there are venue names we all recognize, there are also some hidden gems that don't require an expensive entry ticket! 

When you visit Music City, you're likely looking for a good time, strong cocktails, and some legendary music. At these iconic venues, you're going to get all of that and more.
116 Fifth Avenue North, Nashville, TN 37219

Image courtesy of Ryman
The Ryman is one of the most celebrated venues in modern music. This auditorium's story began in 1885 when Sam Jones led a revival after a break in music. Jones' specific event hosted over 5,000, including an important businessman named Thomas Ryman. Thomas was so engulfed in the experience that night that he dedicated the rest of his life to building up the well-known auditorium, now named Ryman to honor his legacy. 

In the 1920s, the building was leased and became known as the anchor of Nashville's cultural offerings. The Ryman hosted several famous acts including:

     ◾ John Philip Sousa
     ◾ Roy Rogers
     ◾ Harry Houdini
     ◾ Charlie Chaplin
     ◾ W.C. Fields
     ◾ Katharine Hepburn
     ◾ Bob Hope
     ◾ Mae West
     ◾ Theodore Roosevelt

In 1943, the Grand Ole Opry put its roots down here, changing Nashville's music scene forever. After years of growth, the Grand Ole Opry changed venues, but the Ryman still reigns and hosts magical music night after night.

If you still want to visit the Ryman, you can catch anything from a comedy show to a traditional country concert from recognizable names such as David Spade and Lee Brice. 
2804 Opryland Dr, Nashville, TN 37214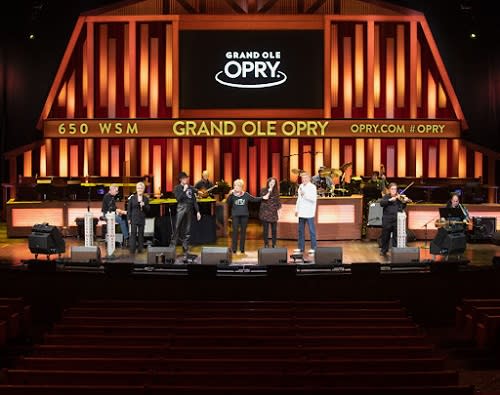 The Grand Ole Opry was founded in 1925, and the venue has been the catalyst for many country music stars' careers over the years. Think Johnny Cash and Bill Monroe. While the Grand Ole Opry is monumental in country music as a genre, the legends who have performed here vary. The venue welcomes a mix of country legends as well as current chart-toppers.

Aside from drawing in major stars, the Grand Ole Opry is a piece of history, making it Nashville's number one attraction. Whether you're there for a show or a tour, you're going to be immersed in music's most magical moments. Today, the venue is the world's longest-running broadcast by a long shot. The Grand Ole Opry and music fans have stood the test of time through the world's challenges over the past 95 years and continue to look forward and welcome the newest stars.

(Image courtesy of Grand Ole Opry)
4104 Hillsboro Pike, Nashville, TN 37215

Still prominent and very well-known is the more quiet venue, Bluebird Cafe. This venue has received recognition as being a space where the "heroes behind the hits" perform. It doesn't matter how long you're in Nashville; you're guaranteed to catch a show at the Bluebird Cafe. The venue typically puts on two shows a night, seven nights a week. The venue itself is pretty unassuming, but the talent it holds within is far from it. 
Image courtesy of Bluebird Cafe
Bluebird Cafe is a unique space with its very own "Shhh policy." This, combined with the 90 seats available, provides guests with such an intimate experience as they hear some of the most significant songwriters and artists perform. The format for performers is also rare. One night could feature up to three or four songwriters as they sit in the center of the room to perform and share their stories. It's truly a one-of-a-kind experience that you can only get in Music City, making it a night you'll never forget.  

The Bluebird Cafe has hosted several famous artists and writers with hits you're likely to recognize, including:

     ◾ Taylor Swift
     ◾ LeAnn Rimes
     ◾ John Prine
     ◾ Marne Morris
     ◾ Phil Vassar
     ◾ Marcus Hummon - writer of Bless the Broken Road
     ◾ Allen Shamblin - writer of I Can't Make You Love Me
     ◾ Hilary Lindsey - writer of Jesus Take the Wheel
     ◾ Chris Tompkins and Josh Kear - writers of Before He Cheats
409 Broadway, Nashville, TN 37203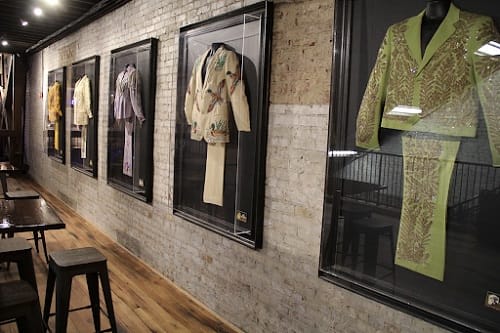 Nudies is historically known to give you a fun night. It's hard to miss when you're exploring Broadway. This multi-level, 100-year-old hangout spot features live music and a rooftop bar, all while giving guests a honky-tonk vibe. The space is decorated with country music memorabilia and features Southern-style comfort food.

The bar is named after Nudie Cohn, a Ukrainian tailor who became popular in the U.S. for his eclectic, rhinestone-covered suits. These decorated suits became known as "Nudie Suits." A famous one of Nudie's suits hangs on the wall and is insured for $400,000. Nudie became a fashion icon in some sense and began to dress some of the biggest names in music, politics, and pop culture. Names you might recognize include:

     ◾ Ronald Reagan
     ◾ Elvis Presley
     ◾ Hank Williams
     ◾ Gene Autry
     ◾ Johnny Cash
     ◾ John Lennon
     ◾ Bob Dylan
     ◾ Roy Rogers
     ◾ Elton John

(Image courtesy of Nudies)
422 Broadway, Nashville, TN 37203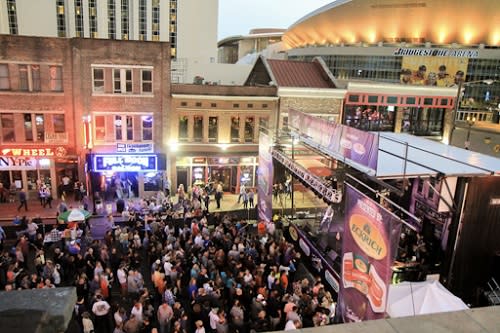 Another honky-tonk venue you have to hit in Nashville is Tootsies Orchid Lounge. Located just across the street from the famous Ryman, you can't miss this homey spot. In 1960, Hattie Louise "Tootsie" Bess bought this lounge and named it "Moms." At one point in time, the building was accidentally painted an orchid purple color. Instead of changing the exterior, this color became the building's signature color and has stayed to this day.

Tootsie's features three stages and welcomes live musical performances every night. The Orchid Lounge is known for supporting local artists, so you're likely to see some up-and-coming talent when you stay for a drink. However, you might just look back and remember seeing them perform at Tootsie's when they become a big star. Tootsie's has been a catalyst in several country music legends careers. Some names you might recognize include:

     ◾Faron Young
     ◾ Patsy Cline
     ◾Kris Kristofferson
     ◾ Loretta Lynn

Tootsie's is always a packed house with loads of fun and talent. While you're there, you'll have to stop by Tootsie's Wall of Fame, where the founder captured icons as they stepped foot into her hidden gem of a venue. 

(Image courtesy of Tootsies)
402 12th Ave S, Nashville, TN 37203

Perhaps the most unassuming venue included in this iconic bunch is the Station Inn. This first-come, first-serve space features all types of music, food, and drinks all nights of the week. Located in The Gulch area of Nashville, Station Inn hides itself more, but that doesn't mean you'll have any less of a good time here. 

Station Inn hosts all types of music such as bluegrass, classic country, Americana, and roots. Whatever you're interested in, they've got the world's best in that genre and more. Station Inn provides a more connected feeling as everyone gathers around the performing artist. It doesn't matter what spot you're in; you'll be close enough to see the sweat glistening on stage and feel the notes as they vibrate the venue.   
___

If you're looking to call Nashville home or even just a second home, and require a Nashville real estate agent, look no further. Shane McCarty's passion for real estate will lead you right into your dream space. Whether you're looking for a family home or a piece of Nashville luxury real estate to get away, Shane listens to your story, sees your vision, and translates it into the perfect place for you to call home. 

If having these music venues at your fingertips makes the downtown area appealing, Shane McCarty and his team can help you out. However, if you're looking to enjoy Music City from a distance, he's an expert in surrounding neighborhoods from Green Hills to The Gulch. No matter what you're looking for, give Shane a call to make your dreams a reality.