Music is an intrinsic component of Nashville's heritage. This city and the great tradition of music have been forever entwined, even from its earliest days. With over 200 years of music history in its wake, here are nine ways Nashville has earned its reputation as Music City.
A Fiddler's Hymn and the History of Music Publishing
Since Nashville's earliest days, it's never been unusual to hear the strings of a fiddle being played. Even frontiersman and Tennessee's first Congressman Davy Crockett considered himself a talented fiddler in the 1700s. In 1824, Nashville residents Allen D. Carden and Samuel J. Rogers published "The Western Harmony," a book of hymns and instructions on how to sing them. The hymnal became widely popularized, and its publication put Nashville's name on the map.
The Fisk Jubilee Singers and the Queen of England
One of the earliest widely recognizable music acts to hail from Nashville was the Fisk Jubilee Singers. This group of performers was formed in 1871 at Fisk University, a private collegiate institute located just north of Midtown. After the end of the American Civil War, Fisk University's primary mission was to educate people who were formerly enslaved, and the Fisk Jubilee Singers were formed as a fundraising act. This group became the first musical act to travel around the world on tour. Due to their extensive touring and incredible reputation, The Fisk Jubilee Singers gained popularity and prestige while performing for audiences worldwide, including Mark Twain, President Ulysses S. Grant, and, perhaps most notably, Queen Victoria. According to local legends, Queen Victoria remarked that the Fisk Jubilee Singers must be from a "city of music" because of their talent. And so, a name was born.

The Fisk Jubilee Singers continue to perform today, and the university's groundbreaking history will not be soon forgotten.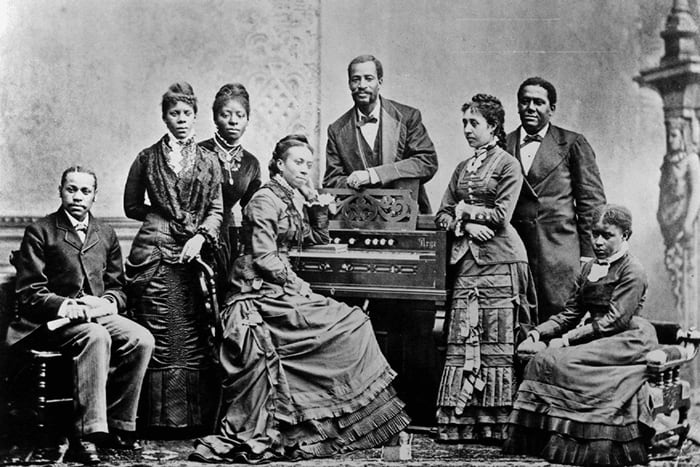 Credit: Fisk University Archives
The Jefferson Street Blues
Mere blocks from Fisk University is Jefferson Street, a thoroughfare that became pivotal in Nashville's musical development as early as the 1930s. During Prohibition, Jefferson Street was notorious for its speakeasy lounges where Nashville's rhythm and blues artists found their voices. Supper clubs and dance halls sprouted along the strip, bringing music and entertainment to the area and providing a stage for emerging talents. By the 1960s, the area was brimming with bright voices and recognizable names such as Jimi Hendrix and Billy Cox, who performed routinely at Jefferson Street's Club Del Morocco as well as Otis Redding and Little Richard. Etta James quickly became a frequent name, and the Etta James Rocks the House album was recorded live at Nashville's New Era Club.
WSM and the Grand Ole Opry
In 1925, WSM launched a radio broadcast show called the Grand Ole Opry. The first show was broadcasted using a 1,000-watt transmitter, which increased over the years as the show grew in popularity and reach.

In the 1950s, WSM launched another radio program called "Music City USA," Today, the Grand Ole Opry is the longest continuously running live radio show and is staged live every weekend, just as it has been for the last 95 years. Many budding country music stars get their start on the Grand Ole Opry, and the show remains pivotal to the country music industry.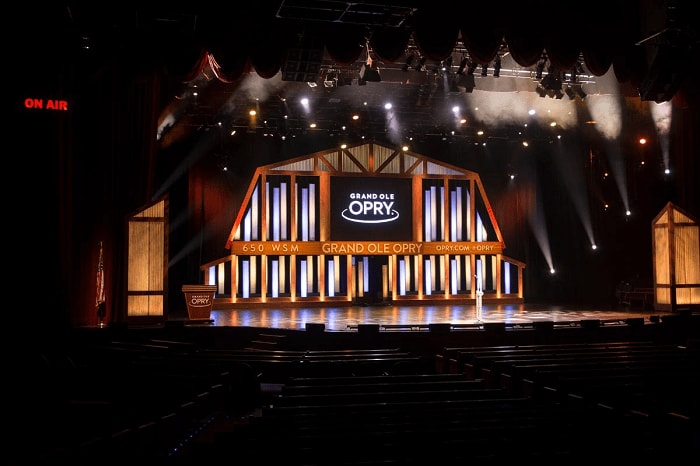 Credit: Grand Ole Opry
The Music of Ryman Auditorium
Dating back to 1892, the Ryman Auditorium is one of Nashville's most famous music venues. Initially built by a riverboat captain named Tom Ryman, the auditorium's first name was the Union Gospel Tabernacle. It was, at the time, the largest auditorium south of the Ohio River. The Fisk Jubilee Singers was one of the first acts to take the stage at the auditorium, and the venue quickly became known as the "Carnegie Hall of the South." After Ryman's death in 1904, the auditorium was named in his honor, and top acts from the 20th century continued to grace the stage, including John Philip Sousa, Nat King Cole, and Louis Armstrong.

In 1943, the Grand Ole Opry joined the Ryman roster on the weekends, and their shows would be performed until 1974. During this golden age, performers on the Ryman stage included Dolly Parton, Elvis Presley, and Patsy Cline, who came on the Grand Ole Opry. Today, the Ryman Auditorium remains a remarkable venue that regularly attracts high-brow artists who would typically perform at larger arenas or stadiums—more recent acts include Harry Styles, Paul Simon, Neil Diamond, and The Foo Fighters. The Ryman also opens daily for tours of the historic venue, which keeps the roots of Music City alive.

The Ryman has been essential to solidifying Nashville's reputation as Music City, hosting everything from bluegrass quartets to pop acts. No other venue epitomizes Nashville's place in the music industry better.
The Stage at The Bluebird Cafe
If you're an upcoming artist in Nashville, you know The Bluebird Cafe. This iconic stage is an intimate playing experience, but it's a rite of passage for Nashville musicians. This listening room has become synonymous with discovering performers. With two shows a night, seven nights a week, there is a surplus of opportunities to hear the next big hit before their break into the mainstream. Performers who played here before becoming a household name include Garth Brooks and Taylor Swift. The Bluebird Cafe is also a haven for local songwriters with their audition-only Sunday Writers Night and Monday Open Mic Nights.
Home to Honky Tonks
Nashville's downtown is largely defined by the honky-tonks on Broadway. This street's dazzling lights, rooftop bars, and crowded clubs are a staple in modern-day Nashville's music scene. With free live music playing 365 days a year, this stretch of downtown is where new voices can break out. Both sides of Honky Tonk Highway are lined with indoor-outdoor venues, and you'll experience a range of genres as you stroll down the street. The music typically starts around 10 AM and goes until the last call around three the next morning. You can't miss Tootsie's Orchid Lounge. This vibrant purple building is a legendary facet of the Broadway circuit, and its stage has been played by household names such as Patsy Cline, Kris Kristofferson, and Willie Nelson. Other area hot spots include Whiskey Bent Saloon, Tin Roof Broadway, Rock Bottom Restaurant & Brewery, and Jason Aldean's Kitchen + Rooftop Bar.
From Indie Bands to an Award-Winning Symphony
There's more to Nashville's music industry than meets the eye. You likely know about Nashville's robust country music fame—and with good reason since the city lives and breathes country tunes—but there are numerous other music styles represented in Music City. Bluegrass is a homespun genre that is widely popular in Nashville—The Gulch's Station Inn hosts live music seven nights a week and some of the world's finest bluegrass performances. The End boasts setlists that include some of alternative music's most up-and-coming acts in an intimate setting. The Schermerhorn Symphony Center is vital to the city's orchestral music scene—their world-renowned programming is eclectic and inclusive, putting surprising twists on traditional symphonic performances. The Grammy Award-winning Nashville Symphony performs 140 performances each year and is considered one of the nation's most active symphonic orchestras. This highly-accoladed symphony is a Nashville cornerstone with 13 Grammy Awards to their name and 24 total nominations.
History Remembered at the Country Music Hall of Fame and Museum
Home to more than 2.5 million pieces of country music artifacts, the Country Music Hall of Fame and Museum is an iconic preservation of Nashville's heritage. This downtown stronghold was originally established in 1967 in Music Row to protect the history of country music while educating new music lovers to continue the genre's growth while celebrating its cultural impact. The museum relocated in 2001, and in 2014, the museum underwent a massive expansion that doubled its square footage. Today, this behemoth of a music archive spans 350,000 square-feet and includes numerous facilities, including the Taylor Swift Education Center, the CMA Theater, and the Ford Theater.

Music is an integral aspect of life in Nashville, and the Country Music Hall of Fame and Museum seeks to ignite that passion for music in its visitors. With a plethora of programs throughout the year, including instrument demonstrations and Words & Music, the museum's songwriting program for schools, museum educators can reach 100,000 people through educational outreach programs alone. Here, country music can persevere, reaching new audiences and uplifting new voices.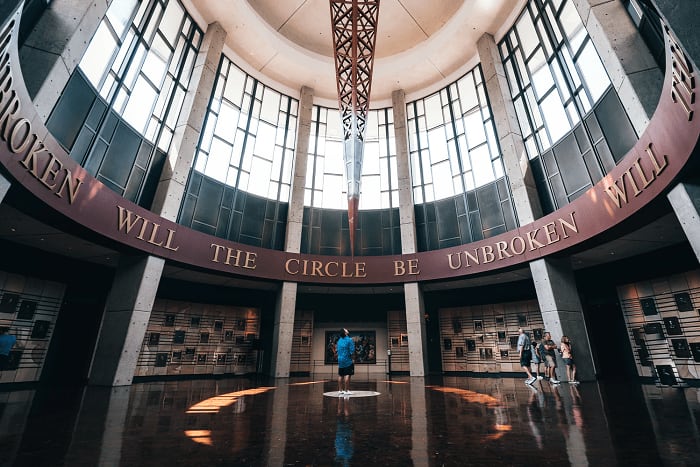 Musicality is ingrained in Nashville's DNA. If you're interested in learning more about Nashville luxury homes and Downtown Nashville real estate, contact me today for more information.