Moving to a new city can be overwhelming, and finding the right neighborhood for your family can be even more daunting. With a city that has so much to offer, it's important to discover which Nashville neighborhood is best for you. From Belle Meade to Green Hills, we're here to help you find the perfect location for your next home.
Belle Meade
Belle Meade is one of Nashville's most prestigious neighborhoods. Lined with elite historic homes, this affluent community was ranked by Niche.com as one of the best places to live in Davidson County—and it's not hard to understand why. Adjacent to Nashville's West End and Green Hills, Belle Meade offers the finest lifestyle in the city. Living in this illustrious neighborhood gives you access to Percy Warner Park, Cheekwood (an unforgettable historic estate you don't want to miss in the spring), and Downtown Nashville. A drive down Belle Meade Boulevard—the main street in this community—reveals enormous homes and mansions tucked behind stone walls and perfectly manicured lawns. As you continue to drive around the community, you will be awed by tree-lined streets and Victorian and Georgian-style homes. If you decide that Belle Meade is the place for you, there's plenty for you to do while living here! Enjoy weekends hiking through Percy Warner Park and Edwin Warner Park—a collective 3,100-acre area of scenic greenery. This gorgeous green space draws in more than one million visitors a year. Strolling, walking, jogging, bicycling, and even horseback riding comprise just a few of the activities you can do here. Those who are lucky enough to live in Belle Meade can enjoy the ease and convenience of having the Warner Parks in such proximity. Another option is heading over to Radnor Lake State Park for an afternoon of fun. With six hiking trails, there's plenty to explore here. With fall quickly approaching, you certainly don't want to miss seeing the inspiring fall colors. You can also learn about local history at the 1800s Belle Meade Plantation or visit nearby Cheekwood Estate & Gardens, which has 55 acres of botanical gardens.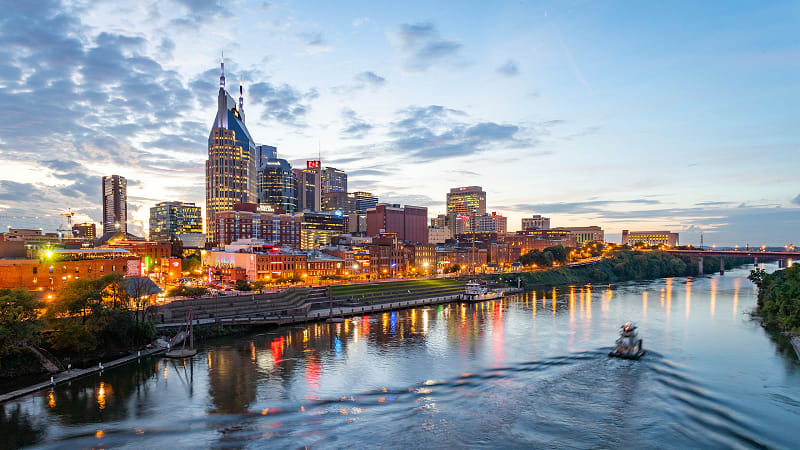 Credit: Expedia
Downtown
Downtown Nashville is packed with nightlife and a plethora of entertainment options. If you're someone who enjoys having a good time or going out on the town, then Downtown might be just the place for you. As the pinnacle of Nashville's acclaimed country music scene, Downtown is lined with honky-tonks, historic buildings, chef-driven restaurants, music venues, concert halls, and much more. Enjoy a sophisticated night out at the Nashville Symphony, watch the Nashville Predators play at Bridgestone Arena, try out one of the multitudes of bars on Broadway, or take a peaceful stroll by the river at Riverfront Park. Often drawing in a younger crowd, Downtown is filled with high-rise apartments and condominium buildings. If that's not quite your style, you can also find brick townhouses and custom-built homes. No matter what you do, living in Downtown Nashville guarantees a foot-stomping good time.
The Gulch
Known for being Downtown's sophisticated brother, The Gulch is just a short walk away from the heart of Music City. This lively urban district is teeming with boutiques, high-rise condos, decadent murals adoring buildings, breweries, and a diverse culinary scene. Here, you can experience a wide range of food, from Biscuit Love to I Love Juice Bar and Otaku Ramen. Regardless of what you're craving, you're sure to find it in Nashville's hippest neighborhood. In addition to its creative and expanding food scene, The Gulch is extremely walkable, allowing you to easily wander around and explore the area—just another appealing aspect of living here.
East Nashville
Located just across the river from Broadway, East Nashville offers a slightly different feel than hustling and bustling Downtown. This Nashville community is known for being an artistic hub, up-and-coming culinary scene, and music scene (you might be surprised to learn it's not country music). While living here, you can grab an unforgettable dinner at Margot Cafe & Bar or stop by for a drink at The Crying Wolf. The neighborhood's architectural influences range from bungalow to Victorian and Craftsman, mostly consisting of one- or two-story single-family homes. A neighborhood with so much character, history, and charm, East Nashville is unlike anywhere else in the city.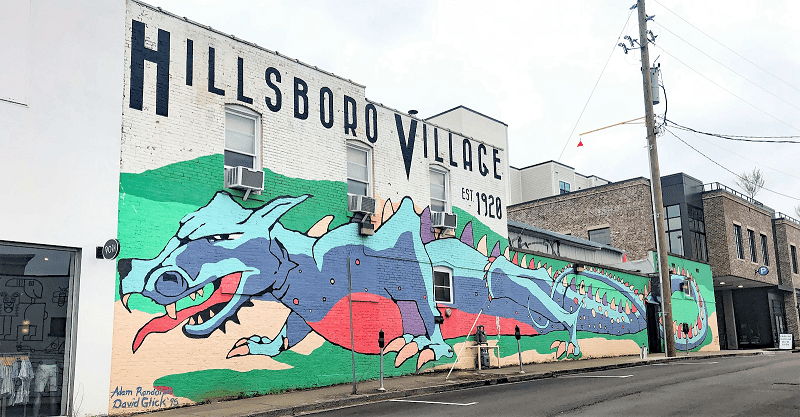 Credit: Nashville Public Art
Belmont-Hillsboro
Filled with beautiful historic homes, it's hard to imagine a more picturesque neighborhood than Belmont-Hillsboro. Nestled adjacent to the campuses of Belmont and Vanderbilt Universities, this collegiate neighborhood has a lot to offer. In addition to being close to Nashville's major universities, Belmont-Hillsboro is located just three miles south of Downtown Nashville. This historic and urban neighborhood is home to a wide variety of people, including college students, university faculty, and families. Here, you will find mostly older homes—early 20th century bungalows, foursquares, and Tudors are common styles in this cozy community. This is a place where neighbors are like family and strangers greet each other in passing. But don't underestimate Belmont-Hillsboro—this neighborhood is more than just a hub for major universities and postcard-perfect homes. Here, you can enjoy an endless array of activities to do and places to eat. For instance, Hillsboro Village is a lively commercial four-block stretch consisting of shops, boutiques, and restaurants. Whether you are on a mission for something in particular or simply want to spend an afternoon window shopping, this trendy village won't disappoint. Start your day by indulging in a delicious breakfast at The Pancake Pantry—a staple of the city since 1961. After you've had your fill of delicious and fluffy pancakes, head on over to hit the shops. Be sure to stop by Hey Rooster General Store or watch a movie at The Belcourt Theatre—a historic 1920s cinema. You can also take a stroll around Fannie Mae Dees Park. Named after a local civic leader, this park has been around since 1978 and is filled with colorful structures and a playground. Whether you want to take your kids out to play in the sunshine or enjoy a picnic on the grass, Fannie Mae Dees Park is just one of the many perks of calling this neighborhood home.
Green Hills
If you're looking for an authentic Nashville experience, then Green Hills might be the perfect neighborhood for you. This upscale neighborhood is one of the city's most sought-after communities to live in, offering an abundance of things to do and explore. Nestled on luscious rolling hillsides, Green Hills is just a handful of miles away from Music Row and Vanderbilt University. It is also home to The Mall at Green Hills and its four floors of restaurants and retailers. Whatever you're looking for, The Mall is sure to have it. Here, you will also find the famous The Bluebird Cafe—an intimate music venue with only 20 tables inside where many acclaimed singer/songwriters still make appearances. The neighborhoods within Green Hills are often peaceful residential communities. With so many great schools nearby, it's no surprise that families prefer to live here. Home styles in the area range from bungalows to 20th-century classics to much newer custom-built mansions. Without a doubt, Green Hills is a neighborhood that is filled with character and opportunities.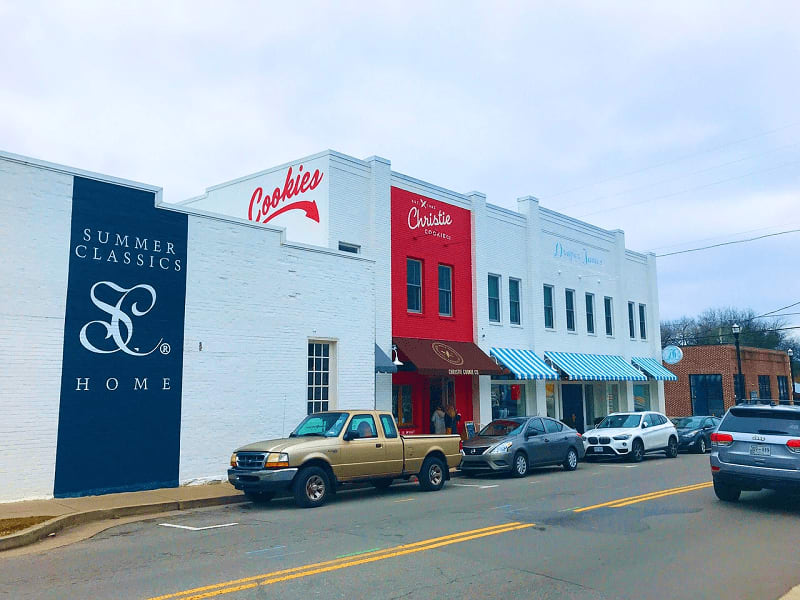 Credit: Tripadvisor


12 South
This Nashville neighborhood is beloved by both locals and visitors alike—and it's easy to understand why. Charming, delightful, and eclectic are just a few of the words that describe 12th South. The homes in this area mainly consist of inviting 1900s-inspired bungalows. 12th South is a happening neighborhood and home to plenty of quaint shops and some of the best eateries in town. Start your morning with a cup of coffee at Frothy Monkey before hitting the shops. Here, you can find ice cream parlors, yoga studios, clothing boutiques, and antique shops. If you're looking for some of the best food in the city (barbecue, anyone?), then you don't want to miss this area. Stop by Edley's Bar-B-Que or grab a sweet treat at Christie Cookie Co. Food isn't the only thing that 12th South has going for it. Watch the trees change colors at Sevier Park or take advantage of the 12 South Farmers' Market held each Tuesday afternoon from May through October. This festive market has a wide variety of vendors selling high-quality products, including produce, meat, dairy, baked goods, and much more.

If you're looking to explore luxury Nashville real estate, contact Shane McCarty today. As one of the most sought-after real estate agents in Nashville, Shane serves a wide range of neighborhoods, from Downtown Nashville to 12th South. His expertise will help guide you through the home buying process to locate the perfect neighborhood for you.