When it comes to hotel accommodations, Nashville is no stranger to marching to its own beat. With a blend of immaculate upscale hotels, swanky boutique bed and breakfasts, and iconic motels, Nashville's hotel scene has something to fit everyone's travel style.

Here are nine stunning, one-of-a-kind Nashville hotels that make the perfect getaway, whether you're having a staycation or traveling from afar.
Once a Nashville bank, Fairlane Hotel boasts a distinctly retro charm despite being one of the newest hotels in the city. Rather than stripping the historic building of its charm, Fairlane Hotel has preserved its terrazzo floors and wood paneling. Inspired by mid-century modern architecture and art, Fairlane Hotel is a sleek, contemporary accommodation in downtown Nashville that boasts luxury amenities. This hotel features standard rooms with one or two queen-sized beds, king rooms, and expansive suites.

Relax in style at the hotel or take on the town. Because of its convenient location, Fairlane Hotel provides guests easy access to Nashville's robust entertainment opportunities — whether it's perusing the Country Music Hall of Fame or catching a Predators game at the Bridgestone Arena. Fairlane Hotel also offers a wide array of special offers and packages, such as the Locals Staycation with discounted prices for Nashville residents and the Nash-Bash experience for bachelorette parties.

On Fairlane Hotel's fourth floor, you'll find Ellington's Restaurant. This retro-style eatery is dishing up modern fares with a wraparound outdoor terrace that boasts immaculate city views.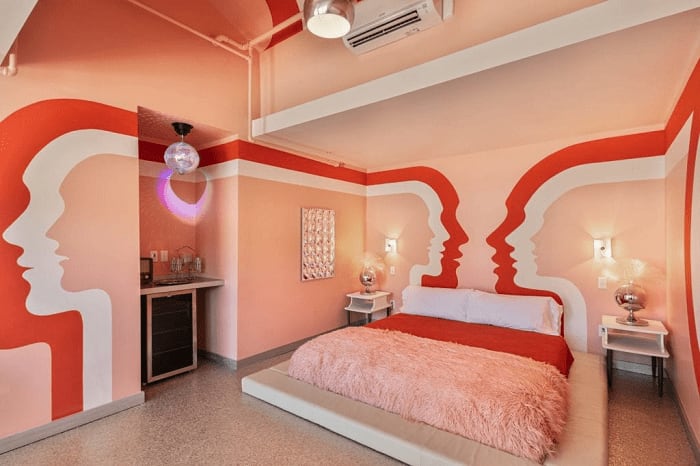 Credit: Dive Motel
This hip accommodation is unlike any other in the city. The Dive Motel & Swim Club is a renovated 1956 motel that seamlessly blends antiquated Americana style with 1970s flair. This quirky hotel is open only to 21-and-over guests, which makes it the perfect location for a weekend getaway for two. The motel has only twenty-three rooms, and each room has been meticulously curated with handpicked vintage furnishings to give each space a distinctly retro ambiance.

Don't let the word motel fool you — The Dive Motel still offers a range of rooms from standard to penthouse, the latter of which offers a king-size bed, access to the private penthouse deck, and a 6-foot soaking tub. All rooms come equipped with a disco ball and four music stations: sex, drugs, rock & roll, and sleep. The "Party Switch" turns the room into a self-contained celebration. Motel guests are granted access to the Dive Bar and Swim Club, but you don't have to stay here to enjoy these amenities. The world-famous dive bar serves drinks and pub fare all week long in its charming, nostalgic environment, and the Swim Club offers annual and monthly memberships for year-round access to the private swimming pool as well as day passes.
Transformed from its past life as a train station, Union Station Hotel is now a stunningly opulent accommodation brimming with old-world charm and lavish amenities. Situated inside a neo-Romanesque train station, this hotel blends modern conveniences with historic elegance, and you'll love the marble floors, delicate craftsmanship, and 65-foot stained glass ceiling in the lobby.

Union Station Hotel boasts both rooms and suites with a total of 125 rentable spaces. Enjoy walk-in showers or steeping tubs in the marble bathrooms, high-speed internet and flat-screen televisions, and sweeping cityscape views. Because of the hotel's convenient downtown location, staying here makes it simple to enjoy a night on the town. If you prefer to stay in, consider ordering room service or grabbing a table at Carter's, the on-site restaurant, which dishes up Southern-inspired fare with a sophisticated flair.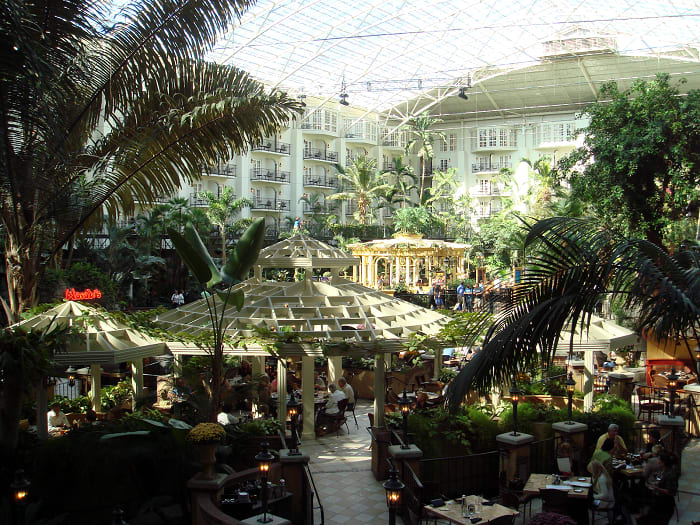 For a uniquely Nashville experience, consider staying at the Gaylord Opryland Resort. This immaculate hotel is only a 10-minute walk from the Grand Ole Opry, which makes it perfect for fans of country music. This resort is the flagship of Gaylord Hotels, and its location on the banks of the Cumberland River provides easy access to everything Nashville has to offer. The extravagant interior boasts nine acres of climate-controlled indoor gardens beneath mesmerizing glass atriums, including waterfalls and a river that can be explored on a Delta flatboat.

This expansive resort has six floors with more than 2,700 rooms and 176 suites. Expect luxury accommodations whenever you stay at Gaylord Opryland Resort, including access to the on-site beauty shop, valet dry-cleaning, and lavish living areas. The Gaylord Opryland Resort is more than simply a hotel. This space is also home to a convention center, and the property boasts 86 meeting rooms with over 750,000 square feet of total meeting space. Plus, the resort hosts nineteen drinking and dining venues, so you'll have everything you need right at your fingertips, whether you're craving Japanese dishes or Southern spirits.
One of East Nashville's favorite adults-only hotels is Vandyke Bed & Beverage. This hip hotel is designed to attract both locals and visitors with its swoon-worthy bar and rooftop patio. East Nashville's easily walkable neighborhood is the perfect location for this 21-and-over play-and-stay hotspot. Live music, handcrafted cocktails, and elevated pub fare take this eatery to the next level, and all of the eight on-site rooms, each named for an alcoholic beverage available at the bar, have their own distinct design. Whether you want to sleep in Scandinavian luxury in the Vodka room or prefer top-shelf luxury in the Whiskey suite, Bed & Beverage is a gorgeous hotel unlike any other in the city.
What once was a church dating back 115 years has become The Russell — a jaw-droppingly stylish boutique hotel that will wow its guests. Tucked into East Nashville's dreamy residential neighborhoods is this one-of-a-kind hotel that keeps its guests close to the heart of Nashville. Located only a mile from Nissan Stadium, The Russell is a perfect spot to relax between Tennessee Titans football games or concerts, and it's a quick drive across the Cumberland River to the bright lights of Broadway.

The Russell sports a vibrant interior, including a breathtaking stained-glass display, and houses 23 rooms and suites that are delightfully decorated for an inspiring stay. Several of The Russell's rooms include skylights for a dose of natural light and indoor stargazing, and the hotel has maintained its historic beauty while updating its amenities to ample modern luxuries. Additionally, The Russell aims to bolster the Nashville community with their Rooms for Rooms program, which donates a portion of each night's stay to local nonprofits that provide relief and shelter to Nashville's homeless population in an effort to end local homelessness.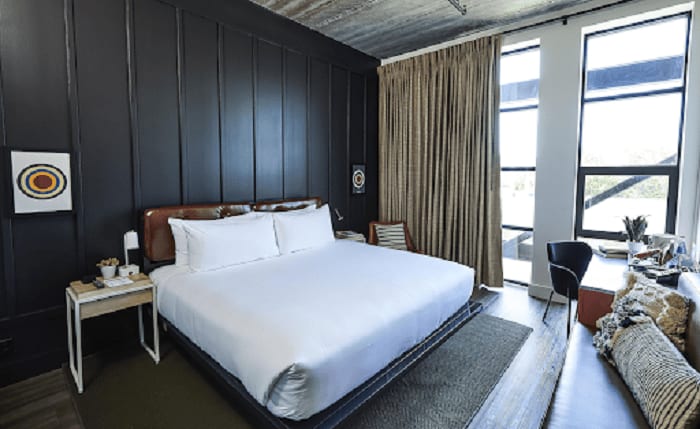 Credit: FieldhouseJones
Eccentric FieldHouse Jones is a stunning East Nashville hotel experience with a unique environment that isn't limited to overnight accommodations. This community hub aims to foster lively neighborhood relationships as well as become a gathering spot for out-of-town visitors. Each of FieldHouse Jones' 93 guest rooms is finely decorated with a sleek, contemporary style that is both functional and fashionable. The hotel is home to a coffee shop, restaurant, and rooftop bar that can be enjoyed whether you stay at the hotel or not, and the space can be rented for stunning events and parties.
8. Downtown Sporting Club
In the heart of Nashville's bustling Broadway, you'll find Downtown Sporting Club. Because of its central location, Downtown Sporting Club is an excellent choice for anyone hoping to experience Nashville's bustling lifestyle. Their guest rooms are decked out with Casper mattresses, sound machines, and DIRECTV, and the concierge is available by texting for increased ease of communication. While some rooms face the dazzling lights of Broadway, others are quietly tucked around the corner for a more relaxed feel.

Aptly named, Downtown Sporting Club is so much more than a hotel experience. The facility offers axe throwing, operates its own arcade, and offers a handful of lawn games in The Rec Room. At the Sports Bar, sip on local beers while watching the game on the big screen or playing a round of corn hole. The Ribbon Room is Downtown Sporting Club's resident restaurant, where they offer breakfast, lunch, and dinner weekly as well as scrumptious weekend brunches. During the summer months, head to the Rooftop Bar for gorgeous views of Downtown Nashville while soaking up the sun.
Part hotel and part art museum, the 21c Museum Hotel is a favorite Nashville accommodation and has routinely earned a Readers' Choice Award from Conde Nast Traveler. Located inside a historic red brick building built circa 1900, this hotel is centrally located and only a 9-minute walk from the Ryman Auditorium. This hotel is a must-see for its rotating art exhibits celebrating contemporary art.
There's no place quite like Nashville — even its hotels are unique. If you're interested in learning more about its luxury real estate or looking to find your dream home in Nashville, contact me today for more information. Music City is booming, and I'd love to help you find a house you feel at home in.