It's hard to get out in the winter. The cold weather makes it challenging to leave the cozy enclave of our homes, often reducing our social life during the winter months. However, filled to the brim with outdoor patios and rooftops with heaters, fire pits, and blankets, Nashville is home to a plethora of comfortable outdoor patios which feature the cozy, warm atmosphere you'll love even on one of the colder days of the year. Let's take a look at some of our favorites.
M.L. Rose (Melrose)
M.L Rose has a simple philosophy: burgers and beers are better together. This lively Nashville joint, complete with a heated patio to keep you warm and toasty outside, marries the concepts of delicious burgers and signature craft beers for a delectable duo that never disappoints.
Weekend brunch — hosted on Saturdays and Sundays from 10:00 a.m. to 2:00 p.m. — is considered a pro-level sport here in Nashville, and M.L. Rose is the MVP. Grab a friend and treat yourselves to shareable 2-for-1 mimosas and Bloody Marys, along with bottomless coffee, waffles, and loaded hash browns. For a win-win combo, pair your favorite craft beer with the latest Burgers of the Month, which are available all month long at every M.L. Rose location.
Famous Nashville
At
Famous Nashville
, you can discover not just one of the best-heated patios but also one of the tallest rooftop bars in the city featuring breathtaking panoramic vistas of downtown. Between the partial roof covering, built-in heaters, and frozen drinks, hanging out with your friends is an every-season occasion at this particular Music City spot. Enjoy radial, open-air views as you order food and drinks from the full-service bar.
The 404 Kitchen
Located in the heart of Nashville's Gulch neighborhood, this modern take on classic European cuisine specializes in local seasonal fare. Discover some of the most elaborate menus in the area made from fresh, responsibly-sourced ingredients and prepared with both traditional and innovative techniques by celebrated Chef Matt Bolus.


From the delicious starters, including the nationally recognized scallop toast to the fresh, house-made pasta and flavorful meat and seafood selections,
The 404 Kitchen
showcases the area's best ingredients served with European-inspired flavor profiles. Complemented with extensive wine, whiskey, and cocktail menus, there are few better-heated patios to enjoy this winter season.
Pins Mechanical Company
For beer, old-school entertainment, and cocktails, nothing beats
Pins Mechanical Company
, located in the heart of the Gulch. With foosball, pinball, duckpin, ping pong, bocce, and opportunities to sign up for their duckpin leagues, this is the place to have an exciting night out in Nashville. Step out onto the heated patio for half-priced draft beer on Mondays and Happy Hour during the week until 7:00 p.m. with $2 off signature cocktails, drafts, and wine.
The Optimist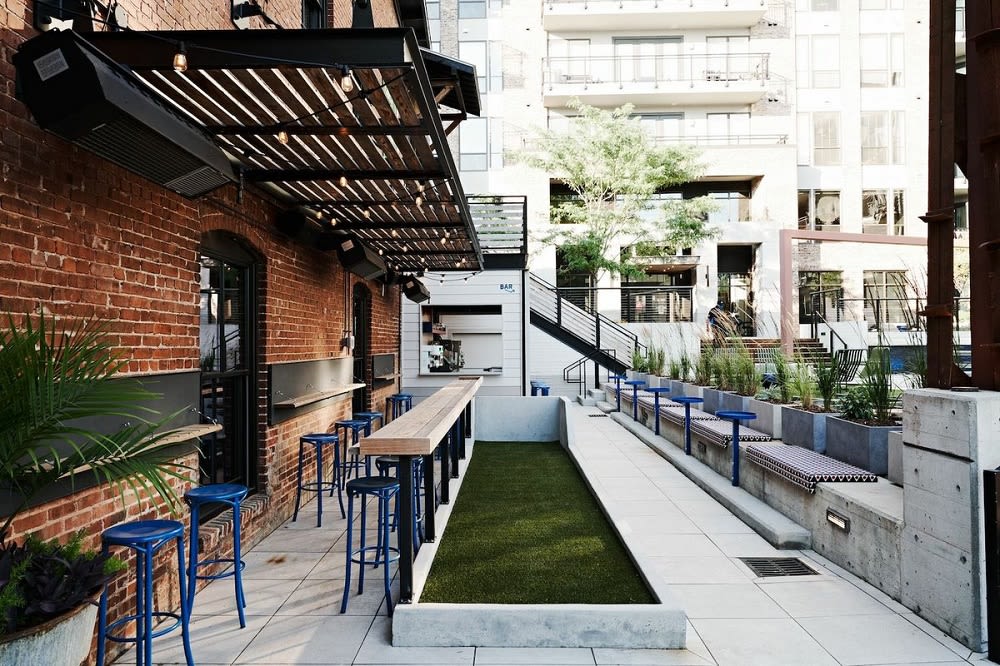 Need another reason to explore luxury houses for sale near Nashville, Tennessee? Look no further than
The Optimist
— a seafood-centric restaurant from acclaimed Ford Fry and Chef Ryder Zetts. The Optimist first opened its doors in June of 2020 in the Germantown neighborhood. The Optimist is the second edition of Fry's hit Atlanta seafood restaurant, which aims to capture the spirit of the original. From the wood-grilled seafood and upgraded comfort food to the Southern ingredients and craft cocktails in the adjoining lounge, there's a reason this heated patio-friendly joint is one of the most highly anticipated restaurants to open in Nashville.
The Hop Yard at Fat Bottom Brewery
Fat Bottom Brewery opened up a small taproom and restaurant back in August of 2012 called
The Hop Yard
for great times, great food, and great beers. This heated patio-friendly spot in Nashville was conceived to showcase brews to friends and neighbors but expanded in 2017 to deliver a family-friendly brewery dining experience. From the beer garden and patio to the weekly specials and events, The Hop Yard is the place to discover everything you love about Nashville.
Locust
Locust
is a fun and casual hangout offering pork dumplings, hand-cut noodles, and shaved ice. The brainchild of Chef Trevor Moran, Locust features an atmosphere as approachable as its
12South neighborhood
location, which earned its reputation as the perfect one-stop destination to eat, drink, play, and socialize. Locus welcomes you to drop by to eat dumplings, drink some highballs, and enjoy time with the friendly staff.
Sonny's Patio Pub & Refuge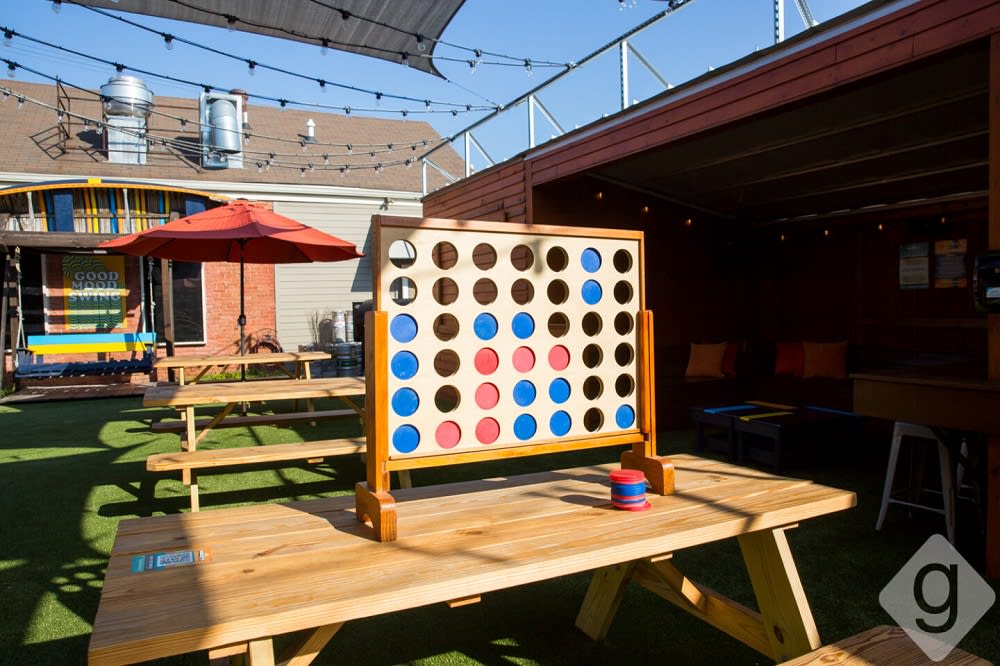 For excellent mood food in Germantown,
Sonny's
is open for business. This heated patio-friendly pub and refuge located in the heart of Nashville is located in a fun-loving neighborhood, serving up the comfort food you love, including power-packed drinks and a lively atmosphere with bar games galore.
Emery
Luxury homes in Nashville are never far from popular go-to spots like this one.
Emery Wood Fired
serves elevated, contemporary American fare complete with innovative craft cocktails and an eclectic wine program in a chic and modern environment. Head over to the Hillsboro-Belmont district for their delicious wood-fired steaks, seafood, and other exquisitely prepared dishes to enjoy on a heated patio that keeps you warm and toasty.
Geist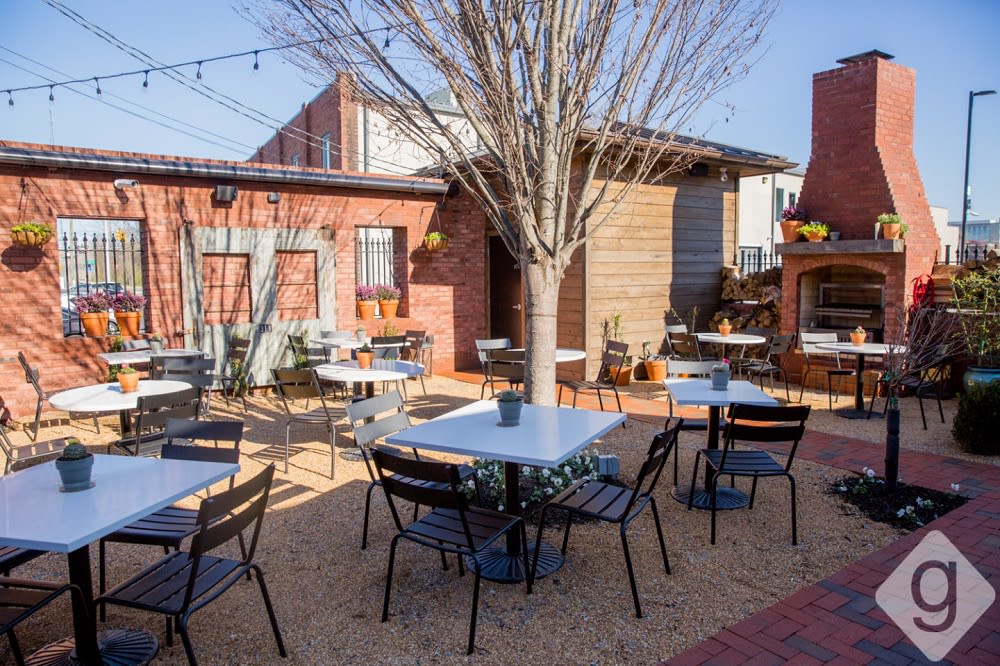 Your favorite neighborhood restaurant is back! This small, independently owned bar and restaurant housed in a stylish brick-clad building built-in 1886 offers American and European fare complete with bespoke cocktails and wine in Nashville's only year-round Champagne Garden.
Located In Nashville's historic Germantown,
Geist
is a charming bar and restaurant with a sophisticated yet unpretentious atmosphere. Think of the dining experience as akin to dinner at a close friend's home. Discover a welcoming and familiar ambiance with a timeless approach to internationally-influenced cuisine and drinks prepared with the region's finest ingredients.
Hawkers Nashville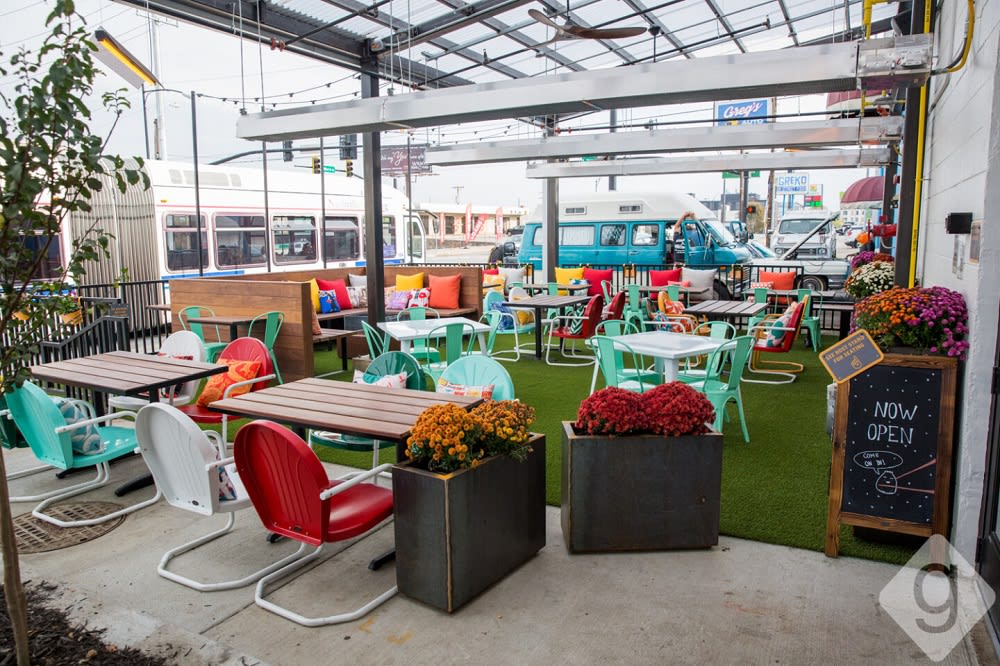 The band is back together and more ready than ever to bring Asian street food to East Nashville. Discover the ultimate comfort food and exceptional cocktails inside an eclectic and adorably decorated space at
Hawkers Nashville
. This Music City hotspot is located in the stomping ground of East Nashville's creative class, where patrons can embrace the cultural diversity and historical character. The neighborhood serves as a culinary destination for beloved restaurants, dive bars, coffee shops, and various boutiques, and Hawkers is proud of contributing to the area's robust cultural scene.
Tennessee Brew Works
Drop by this joint to drink beers in full view of the brewery where they were created.
Tennessee Brew Works
is the place to indulge in beer-centric cuisine, listen to great live music, and sip brews by the pint or as samples. If wine, cider, and liquor/cocktail options are more your style, there are plenty of options for you! Don't forget to take home a 6-pack, mix-pack, or keg of freshly brewed craft beer.
What's the best part about the heated patio inside Tennessee Brew Works? It's the dog-friendly environment, of course! A unique food menu complements the drinks with many dishes expertly integrated with the brewery's finely tuned craft beer.


From the live music downstairs to the sports-ready TVs in the beer hall, this is the place to enjoy an energetic evening. With Happy Hour specials Monday through Friday, an open mic night on Mondays, top-shelf spirit specials on Tuesdays, and 2-for-1 craft beer specials on Wednesdays, any day is a good day to visit the Tennessee Brew Works.
Mafiaoza's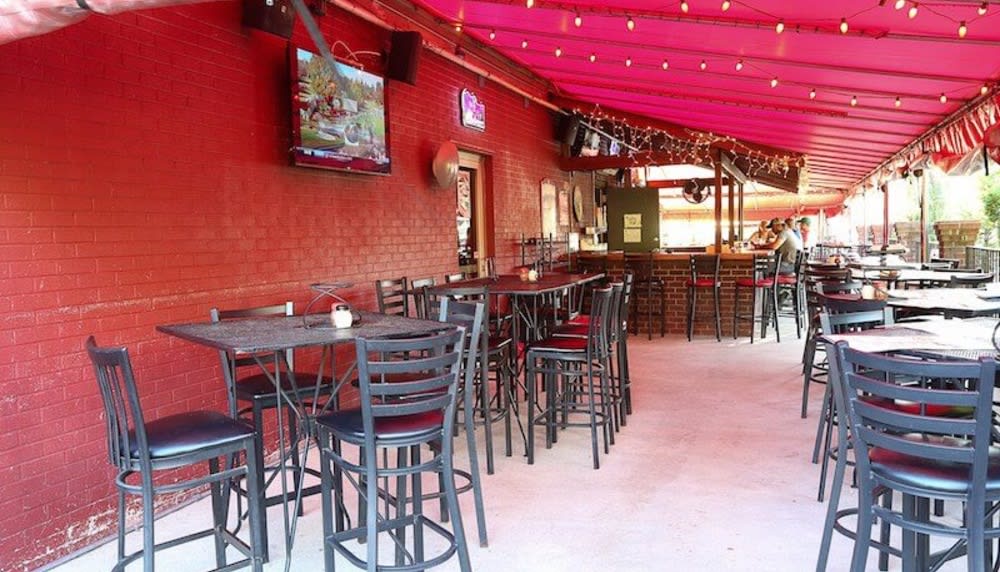 Discover the neighborhood pizzeria and pub where great 1920s New York Italian food and service exists right here in the heart of Nashville. The legend of
Mafiaoza's
began in 2003 when Michael Dolan and Lars Kopperud, originally from Cincinnati and Alaska, felt the 12South neighborhood was ready to evolve into a destination featuring a New York stone oven pizza to claim as its own.
Rooted in their love of family and classic Italian dishes, this authentic pizzeria now offers fresh local handmade dough, sauces and meatballs, and an impressive beer and wine selection, all of which have earned Mafiaoza's its reputation as Nashville's number one neighborhood family pizzeria.


Stop by this heated patio-friendly pizza spot for world-class Margheritas, calzones, pasta, and more. If you love your in-restaurant dining experience, bring it home with express catering delivered to your door. You can also order large portions for your catering event to bring the authentic pizza experience to your business as well.


Want to learn more about these vibrant Nashville destinations?
Contact Shane McCarthy
for expert guidance. Shane listens to your story and sees your vision — contact him today to find your next luxury home in Nashville!
*Header photo courtesy of The 404 Kitchen