Tennessee is home to some of the best Southern food in the U.S., and its capital, Nashville, has an abundance of tasty, scratch-made specialties. One of Tennessee's most iconic dishes is its buttery and fluffy biscuits, of which there's no shortage in Nashville. Savor classic Southern home cooking and the city's best biscuits at these eight eateries.
Biscuit Love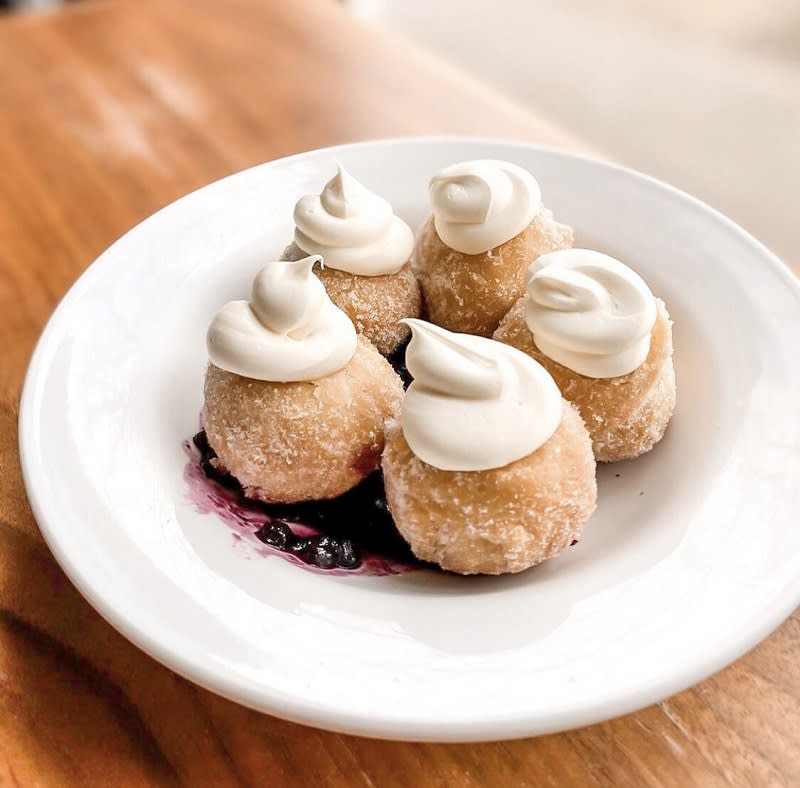 Credit: Biscuit Love
Get biscuits and meals made from scratch at the family-owned Biscuit Love. Open daily for breakfast and lunch, Biscuit Love sources its ingredients from local farmers and vendors they trust - and is all about serving authentic and unique biscuit dishes. Their most popular savory biscuit dishes are the East Nasty, Princess, and Southern Benny. The East Nasty tops a biscuit with a fried boneless chicken thigh and smothers it in cheese and sausage gravy. The Princess features the iconic Nashville hot chicken, while the Southern Benny layers a biscuit with shaved ham, two eggs, and southern gravy. No matter what you choose, you'll eat well!

Craving something sweet? Biscuit Love can even turn biscuits into one-of-a-kind desserts. The Bonut is a donut-like treat of fried biscuit dough tossed in sugar and topped with lemon mascarpone. The restaurant's B-roll is a biscuit cinnamon roll, loaded with pecan sticky bun sauce and cream cheese icing. And whenever you eat at Biscuit Love, you're helping the local community too. A portion of their profits goes to non-profit organizations in the Nashville area, which is why their motto is "breakfast for good." Savor a fluffy biscuit dish at Biscuit Love to experience food that feels like home.
Nashville Biscuit House
For melt-in-your-mouth biscuits, head over to Nashville Biscuit House. This family-owned and -operated restaurant is open daily for breakfast and lunch. Try the biscuits and gravy or the biscuit sandwiches if you want to go the classic route. If you want something even heartier, order the Ultimate Platter. This plate consists of three biscuits layered with country sausage gravy, bacon, ham, cheese, and topped with eggs. The Nashvillian is another popular item on the menu, featuring two eggs, grits or home fries, toast or a biscuit, and breakfast meat of your choice. Regardless of the biscuit dish you choose, rest assured that it will be mouthwatering. If you're craving some good country-style cooking, Nashville Biscuit House will hit the spot.
The Loveless Cafe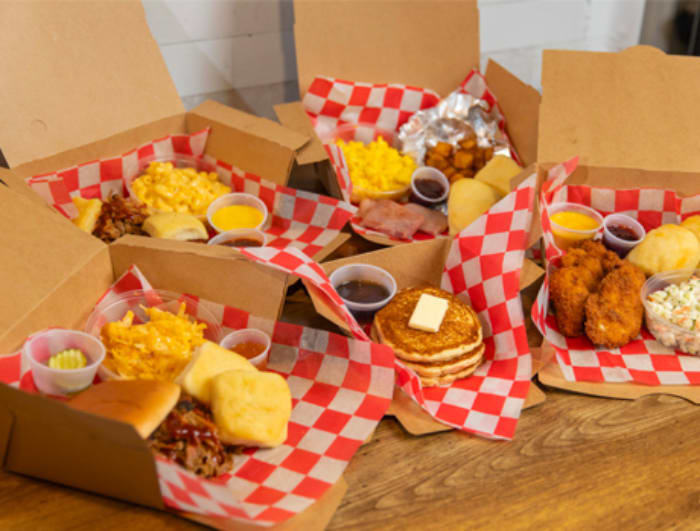 Credit: Loveless Cafe
The Loveless Cafe has been creating scratch-made biscuits and other dishes for over 65 years, with a renowned breakfast menu that features all types of biscuit combinations. Try the country ham or chicken biscuits if you want to stay traditional, or the pimento cheese n' fried green tomato biscuit if you're feeling more adventurous. Loveless Cafe's world-famous biscuits are served with every meal too! The Cafe has a separate Biscuit Kitchen right next door, which features all popular items from their main menu. Get biscuits and preserves, barbecue pulled pork, fried chicken tenders, and banana pudding all to-go. Or, enjoy one of these signature dishes at one of the many picnic tables throughout the Cafe's property.

Loveless Cafe has received numerous accolades for its home-cooked Southern food, including acknowledgments from USA Today, Southern Living, and Taste of the South. When the restaurant opened in 1951, it also doubled as a motel for travelers. Now, the motel rooms are charming shops full of local souvenirs for visitors to take home. Two larger event spaces have also been added — the Barn and the Harpeth Room — where the Loveless crew puts together celebrations, weddings, and meetings. With its tasty menu and Southern hospitality, the Loveless Cafe has become a Nashville landmark.
Barista Parlor
For excellent biscuit sandwiches paired with gourmet coffee, there is none other like Barista Parlor. The Parlor's biscuits are iconic: perfectly golden and crisp on the outside while buttery and soft on the inside. Biscuit sandwiches can be made with the typical scrambled eggs, sausage, or cheese. For a unique taste, add Barista Parlor's coffee-rubbed bacon or seasonal jams. This Nashville coffee shop offers high-quality drip, pour-over, and iced coffees, as well as traditional and specialty espresso drinks. Apart from coffee and espresso beverages, Barista Parlor also makes craft teas and elixirs. Tea options include everything from botanicals to iced, while elixirs are drinks made with CBD and oat milk. Barista Parlor's outstanding reputation means you may have to wait in a line that goes out the door, but the biscuit and coffee pairings at this Nashville eatery are well worth it.
Sky Blue Cafe
You'll find that locals love the fresh, moist buttermilk biscuits at the colorful Sky Blue Cafe. With its friendly staff and cozy atmosphere, the Cafe is a laid-back dining spot for everyone. The diner's original biscuit sandwich comes with one protein of your choice, while their specialty biscuit sandwiches include the Hot Chicken Biscuit and the Big Rube — a delicious combo of deep-fried chicken, pepper jelly, and goat cheese. Biscuits can be ordered individually and enjoyed with one of the diner's many meals and beverages too!

Sky Blue Cafe has a great selection of omelets that pair marvelously with their homemade biscuits. Other Cafe favorites include The Classic and Steak & Eggs, both of which come with eggs, protein, home fries, and a biscuit. There's also a wide range of beverages to choose from: the Cafe offers freshly-squeezed juices and blended fruit smoothies alongside java drinks like lattes, cappuccinos, mochas, and cold brews. You can even try the immune-boosting golden milk, a blend of turmeric, ginger, cinnamon, cardamom, and black pepper steamed with oat milk. Offering a modern take on Southern comfort food, the Sky Blue Cafe is a must-try in Nashville.
Monell's
Monell's offers family-style comfort food in a historic Nashville setting. Open for breakfast, lunch, and dinner, the restaurant serves its hot and fresh biscuits with every meal. Monell's Country Breakfast is served daily, while a Midnight Country Breakfast is offered from midnight to 3 a.m. on Saturday nights. The eatery's lunch and dinner options include dishes like meatloaf, fried catfish, pot roast, and chicken and dumplings. Monell's has received numerous awards for its superb Southern classics, such as #1 Best American Cuisine by TripAdvisor, #1 Soul Food by USA Today, and Nashville's Best Soul and Southern Food by Zagat. With three locations to choose from, there's no shortage of biscuits when you eat at Monell's.
The Nashville Jam Company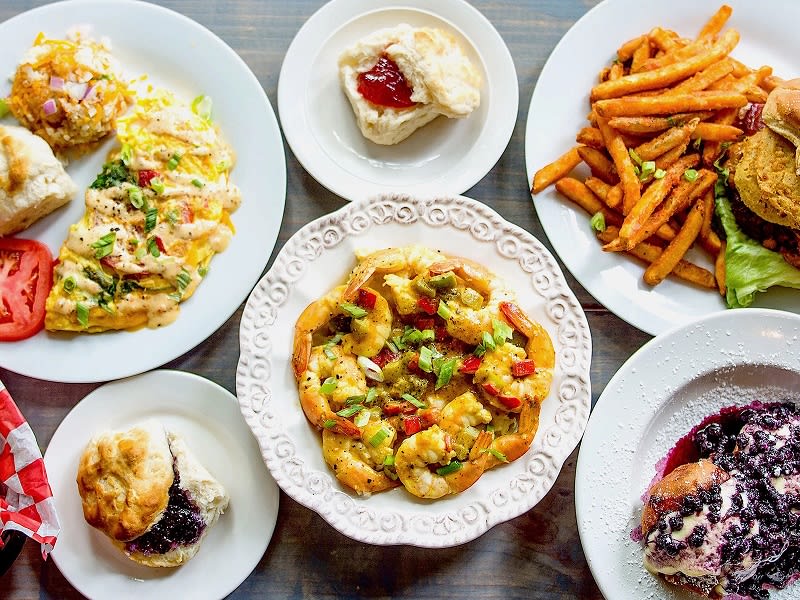 Credit: The Nashville Jam Company
For breakfast biscuit options galore, check out The Nashville Jam Company. What started as a mere home garden operation is now a renowned jam company and brunch cafe. The company only uses real fruit, lemon juice, and sugar to make jams, jellies, and sauces. Some of their earliest and most popular products include their strawberry jalapeno jam, peach habanero jam, and six pepper jelly. In addition to their starring roles at the Nashville Jam Company's cafe, jams are available for purchase on their own.

The menu at the Nashville Jam Company's cafe features all the biscuit dishes you could imagine. Have a classic biscuit sandwich topped with eggs, ham, bacon, sausage, or cheese. Or, try a spin on Eggs Benedict, with fluffy biscuits as the bottom layer. The brunch cafe also makes a variety of chicken biscuits, including a traditional Chicken Biscuit, Nashville-style Hot Chicken Biscuit, and the playful PB&J Chicken Biscuit, which is topped with pimento cheese, bacon, and tomato jam.

Have a sweet tooth? The Bronut is a battered biscuit that is fried, stuffed with cheesecake, and topped with blueberry compote. All of the cafe's breakfast dishes are served with a side of biscuits and jam as well. If you're craving golden biscuits paired with unique and all-natural jams, grab brunch at The Nashville Jam Company.
Pancake Pantry
Dig into some country-style biscuits and gravy at the Pancake Pantry, a Nashville staple since 1961! Served up with a deliciously homemade sausage gravy, these decadent biscuits have been delighting locals and tourists alike for decades. While especially known for their pancakes, as their name implies, you don't want to miss Pancake Pantry's tasty biscuits. Breakfast items are made from scratch each morning, so you know you'll be dining on the freshest treats Nashville has to offer.
Nashville Luxury Real Estate
If you're moving to Nashville, Tennessee — or if the city's mouth-watering biscuits are making you seriously consider it — contact Shane McCarty. Shane has an enormous passion for real estate and believes that his job is to listen to his clients' stories and fulfill their visions. So, if you're interested in buying or selling luxury homes in Nashville, rest assured that you'll be in good hands with Shane.