Middle Tennessee benefits from four robust seasons with hot summers and mild winters, an internationally renowned music scene, and a plethora of gorgeous green spaces, so it's no wonder why people from across the country are migrating inland to Nashville. With a variety of neighborhoods that each carry their own charisma and charm, Nashville is bursting with opportunities. Here are five of the most popular up-and-coming neighborhoods to watch in Nashville.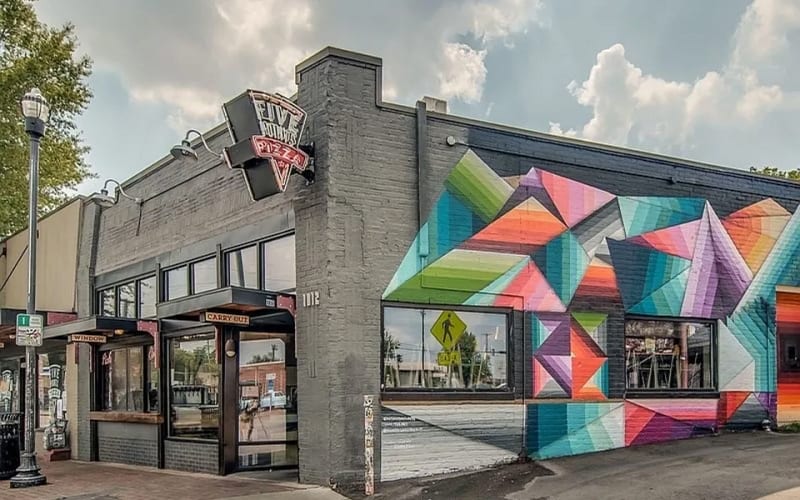 Across the Cumberland River from downtown sits East Nashville. This artsy enclave is a hub of creative thinkers—from artists to writers to musicians hoping to be close to the heart of Broadway. As Nashville's most progressive neighborhood, you'll find a large population of young hipsters, including vocal community activists, third-wave coffeehouse enthusiasts, and avid foodies.

This neighborhood's culinary catalog is exquisite, and their breadth of alternative music venues are unlike any others in the city. The Basement East hosts musical acts from all genres, so you can catch a punk show on Friday night and a blues set on Saturday. For a taste of 1920s Paris, grab a seat at Once Upon a Time in France. This glitzy Parisian bistro boasts traditional fares alongside an extensive drink menu, which makes it the perfect spot to talk shop or catch up with friends. In East Nashville, you'll enjoy a strong sense of local community. The bartenders know your name, the waiters remember your order, and you'll feel right at home.

While only a short drive across the bridge to downtown, East Nashville is uniquely positioned to keep its urban feel while being close to Shelby Bottoms Greenway and Natural Area. This 960-acre parkland stretches approximately three miles along the Cumberland River waterfront and provides a unique urban oasis for East Nashville residents and solace for local wildlife, including deer and birds.

Throughout this neighborhood, historic homes dapple the landscape. 1940s Craftsman homes are particularly popular in East Nashville and give the streets a warm, vintage feel. You'll find incredible investment opportunities with strong bones and bright futures, as well as vibrant homesteads dressed to the nines. With plenty of mature trees, a wealth of nearby amenities—including highly rated public schools—and access to abundant parkland, East Nashville is brimming with potential.
North Nashville
Several communities on the northern edge of Nashville show immense promise. Including neighborhoods such as Buena Vista Heights, Osage, North Fisk, and Cumberland Gardens, the portion of Nashville tucked between the Cumberland River and Interstate 40 is a great opportunity for anyone aiming to be near the heart of the city without being inundated with the lights of Broadway. These neighborhood streets feature quaint single-family dwellings with cute front lawns, and you'll find a surplus of historic American Craftsman-style homes throughout.

A number of upscale goods and services can be found in this corner of town. Nisolo boasts a collection of ethically handmade leather goods including both men's and women's shoes, bags, and accessories, and Emil Erwin is a stylish boutique sporting leather goods, such as jackets and belts. The Dress Theory is a boutique bridal shop with a breathtaking selection of gowns to suit a myriad of styles. After you've worked up an appetite while window shopping, North Nashville is home to numerous locally owned eateries that will have you going back for seconds. The Southern V is a gourmet vegan restaurant with a hip selection of flavorful plant-based meals that will appeal to even the most carnivorous of us. Slim & Husky's Pizza Beeria is a counter-service pizzeria that's cooking up innovative pies lovingly crafted from scratch every day.

Living in North Nashville sits you less than 10 minutes from the Bridgestone Arena and everything that Broadway has to offer—from the rooftop lounges to the dive bars—but allows for a little elbow room.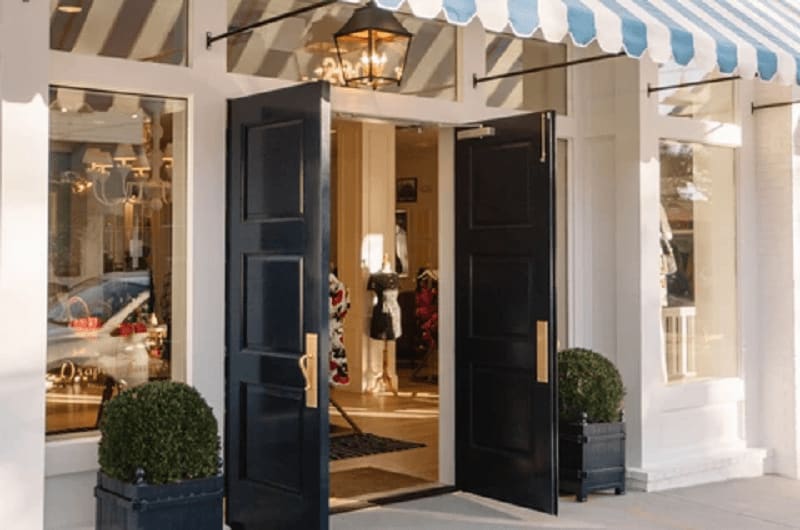 Credit: Draper James
Eclectic 12 South is nestled along its titular avenue on Nashville's southeastern end. This quiet neighborhood is instantaneously recognized by its wealth of 1900s bungalows and quiet neighborhood streets. This peaceful enclave is budding with new potential, and everyone from growing families to gorgeous boutiques are moving in.

Here, you'll enjoy an eccentric array of community amenities from barbershops to vintage furniture stores and upscale apparel retailers to dreamy coffee shops. You'll recognize Draper James, Reese Witherspoon's flagship store, by its blue and white awnings. This boutique boasts a selection of luxury apparel items with a sweet Southern charm.

This laidback neighborhood also offers a delectable selection of local eateries that are both exquisite and Instagrammable. Frothy Monkey is a long-standing favorite in 12 South. This gourmet coffeehouse has a menu of innovative drinks that will warm you from the inside out. Josephine on 12th blends Southern-style home cooking with upscale elegance. With thoughtfully paired drinks to accompany each meal, Josephine's is a local must-try.

Sevier Park provides plenty of playing room for families with children. With an abundance of shade trees to picnic beneath, baseball and tennis courts, and two playgrounds, this urban park is a central hub in the neighborhood. With an abundance of fitness classes available at the Community Center, don't be surprised to frequent Sevier Park. If you're interested in living close to the heart of Nashville, but crave the solace of neighborhood living, consider buying a beautiful home in 12 South.
Nashville's Belmont-Hillsboro neighborhood has been developed since the 1890s, but you'll find this neighborhood offers a plethora of substantial lots shaded by mature trees and draped in a charming ambiance. Currently home to two collegiate academic facilities, Belmont and Vanderbilt Universities, this area offers citizens a wealth of opportunities. This part of town has an abundance of history at its fingertips and can be an excellent investment opportunity.

Because of the rich academia, this area attracts a plethora of young scholars and professionals, which leads to a bright variety of dining, shopping, and entertainment options. The Belcourt Theatre is a historic cinema that dates back to the 1920s. This beloved icon screens modern independent films and documentaries as well as classic movies, and you'll be able to enjoy traditional movie theatre concessions alongside upscale eats, such as tamales and empanadas. For a cup of coffee, Fido is a local favorite with a charming canine motif and a menu of gourmet cafe fares and caffeinated beverages. Longtime local eatery The Pancake Pantry is known to have a line wind out the door and down the sidewalk as breakfasters prepare for hearty plates of their namesake meal.

Young families flock to this area for its easy walkability, brand new bike lanes, and spacious homes, including historic bungalows and Tudor Revival estates. This neighborhood poses an excellent potential for a high return on investment, and homes already boast the innate curb appeal of living in a centrally located community that puts all of Nashville at your fingertips.
Wedgewood-Houston
A fast-growing community known for its art culture and hip atmosphere, Niche ranked Wedgewood-Houston the fifth-best neighborhood to live in Nashville—and it's not hard to see why. Located just south of Downtown, the community is in close proximity to other popular areas such as the Gulch, Melrose, and 12 South. However, aside from its convenient location, Wedgewood-Houston's has a unique character all its own.

Locals love grabbing a bite to eat at the community's trendy restaurants, such as classic hot chicken and brunch at Earnest Bar & Hideaway and fried chicken and fish on the patio at Parson's Chicken & Fish. Support the community by enjoying local cuisine at The Loading Dock or Houston Station, which also houses many boutiques in the heart of the thriving arts district. The area is mostly known for its single-family homes, but sleek new apartment complexes and condos have been popping up lately—excellent choices for the young professional crowd who value convenience and first-rate amenities.

If you're hoping to find your next home in Nashville, don't hesitate to contact me for more information. Scouting out up-and-coming Nashville neighborhoods is a great place to start your search for your Music City dream home.
Explore more of Nashville's beloved neighborhoods