From world-class music to beautiful nature, discover why people are flocking to Nashville in record numbers
Nashville has long been regarded as the place to go for anyone seeking the best in entertainment and music. The popular city is a favorite for tourists and visitors to explore its unmatched nightlife, cultural landmarks, and natural beauty. Not only is Nashville an ideal city to visit, but a high number of interested homebuyers are also drawn to the Music City as a place to lay down roots and enter its competitive real estate market. Check out our list for the reasons people are relocating to Nashville!


A Cosmopolitan City With Small-Town Charm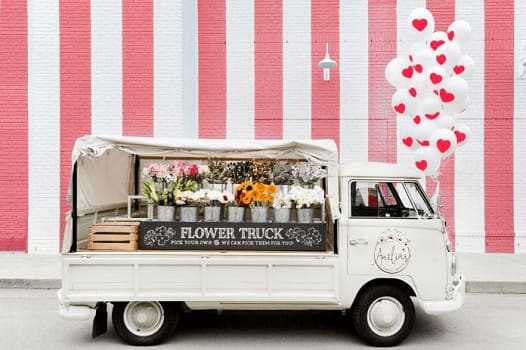 Image of Amelia's Flower Truck courtesy of @lesleemitchell
Nashville has a long history as a progressive, cosmopolitan city—from becoming the first Southern city to desegregate public establishments to hosting Oprah Winfrey as the country's first female African-American news anchor and being home to the nation's largest Kurdish population. Nashville has continued to present itself as a leader in the country, rich in diverse cultures and cuisines.

With a population of nearly 700,000 residents, Nashville is the 24th most populated city in the United States. Home to the state capital and Music City, Nashville offers big-city attractions, amenities, and urban living alongside small-town charm and personality. Each year, over 15 million visitors travel to Nashville to experience its famous music scene and world-class attractions served with Southern hospitality.

Nashville residents know their neighbors on a personal level and support their favorite neighborhood eateries and local businesses. Amelia's Flower Truck is one of many Nashville-based businesses giving its customers a unique and personable experience. Started in 2016, Amelia's began with a vision of making beautiful flowers more accessible to the folks of Nashville while providing a unique experience to make residents smile. Customers are greeted by one of Amelia's signature vintage trucks stocked with a bed full of colorful flowers. Every truck plays French music and has a friendly "Flower Gal" greeting customers and helping them select their bouquets.
Vibrant and Unique Neighborhoods


Image of East Side Cycles in East Nashville courtesy of Neighborhoods.com
Homebuyers ready to settle down in the Nashville area have a wide selection of neighborhoods—each with their own distinct personalities—to choose from. Downtown Nashville and The Gulch are considered the place to be for those looking for lively urban districts with a variety of entertainment options.

Downtown is the center of Nashville's world-class country music scene, complete with dive bars, music, and nightlife venues. From casual and intimate venues to large shows, residents of Downtown and The Gulch never have to venture far to immerse themselves in all that Nashville has to offer. These areas have condominiums and townhomes available at a range of prices.

The sophisticated neighborhood of Belle Meade is known for its gorgeous historic homes on large and traditional properties. This exclusive and private community is considered a "city-within-the-city" and is situated adjacent to Nashville's West End and Green Hills. Belle Meade's main road Belle Meade Boulevard is home to grand homes and estates lined with stately stone walls and magnolia trees.

East Nashville is located just across the river from Nashville's main area of honky-tonks and buzzing nightlife. The residents of East Nashville's narrow streets are often drawn to its artistic atmosphere and budding food scene. Residents and visitors can enjoy cocktails and homebrews in one of East Nashville's charming backyards behind the many small homes in the neighborhood.

Other notable neighborhoods include distinct areas, such as Hillsboro Village, a bustling community close to some of Nashville's major universities, and 12 South, an eclectic community with trendy businesses and a close-knit neighborhood.
Exploring the Great Outdoors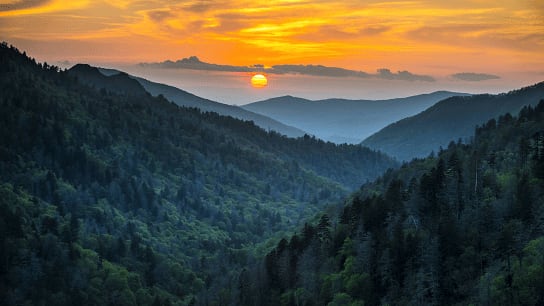 Image of the Great Smoky Mountains National Park
(Courtesy of the National Parks Conservation Association)
Nashville's geographical location provides a subtropical climate, resulting in hot summers and mild winters to enjoy the outdoors year-round. Whenever residents desire an escape from city life, they don't need to venture far to immerse themselves in the beautiful natural landscapes surrounding the region.

Head east of the city to the Great Smoky Mountains National Park, the most visited national park in the country, for hiking trails and to admire local wildlife and scenery. Enjoy a weekend in the wilderness and camp on one of the park's campgrounds.

East Nashville is home to the 950-acre Shelby Bottoms Greenway and Natural Area, which features diverse natural habitats and miles of walking, running, and biking trails. The Warner Parks are located just nine miles from downtown Nashville and contain over 3,100 acres of forests and fields. The nature center, scenic overlooks, golf courses, and equestrian center entice nearly one million visitors to the parks each year.
Burgeoning Food Scene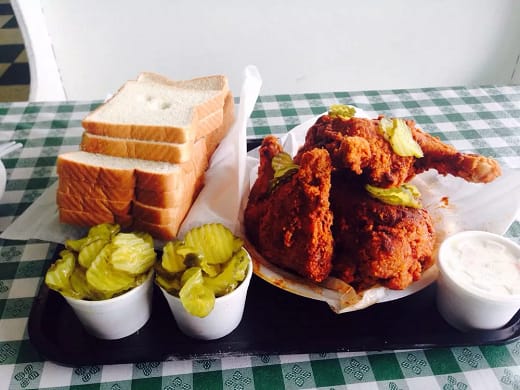 Image courtesy of Eater Nashville
With its rich traditions and a recent influx of big-city chefs, Nashville is quickly becoming a foodie's paradise! The city features exceptional food, breweries, and bars. Meat-eaters can't miss a plate of Nashville hot chicken—a chicken dish marinated, fried, and covered with spicy sauce. Prince's Hot Chicken Shack is one of the most popular spots in the city for hot chicken. Be prepared to wait in line—the eatery is considered the birthplace of hot chicken!

For brunch, check out Biscuit Love or Butcher & Bee for the city's best breakfast fare.

Nashville's eclectic dining scene includes both high-end and casual dinner and nightlife spots for unique cuisine and drinks. Try Margot Cafe & Bar, Folk, Redheaded Stranger, and Rosemary & Beauty Queen for a solid start to your Nashville culinary tour.
Home of Music City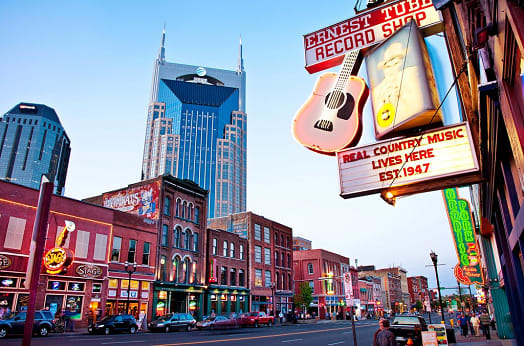 Image courtesy of Danita Delimont (Getty Images)
Nashville is internationally-recognized as the country music capital of the world. Music City is home to several big-name record labels and famous entertainment venues. The world-famous Grand Ole Opry is home to the longest-running live radio show in the world. Regarded as "The Home of American Music," the Grand Ole Opry has hosted the biggest names in music, from Loretta Lynn and Dolly Parton to Carrie Underwood and Brad Paisley. The city is also a hub for gospel music, an important piece of Nashville history.

Other notable musical landmarks include The Country Music Hall of Fame, The Johnny Cash Museum, Nashville Symphony Orchestra, and The Bluebird Cafe, a live music venue where Garth Brooks and Taylor Swift performed before their big breaks.
Exceptional Education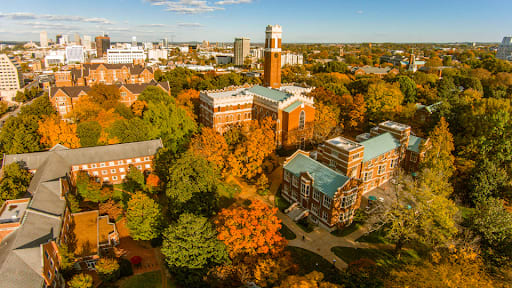 Image of Vanderbilt University courtesy of SECU.com
A large number of newcomers to Nashville relocate for the area's abundance of educational institutions. The city has exceptional public and private schools, from elementary through higher education.

Metro Nashville Public Schools is the nation's 42nd largest district, assisting more than 86,000 students to excel in higher education, work, and life.

Nashville has been called the "Athens of the South" for its wide variety of learning establishments—as well as having the world's only full-size replica of the Parthenon.

Two of Nashville's largest colleges are Vanderbilt University, a private research university founded in 1873, and Tennessee State University, a historically Black institution offering a variety of undergraduate and graduate programs.
Abundance of Activities, Events, and Entertainment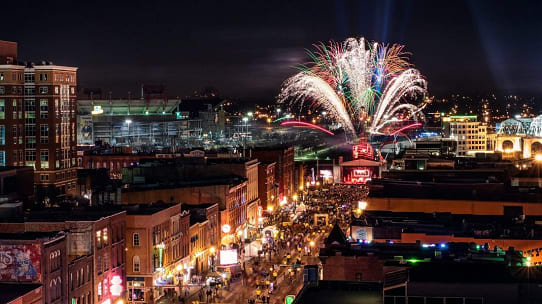 Image of Palmetto Beach courtesy of Lodging Magazine
Although Nashville is well-known as Music City, there's so much more to see and do when it comes to entertainment and events. The annual Nashville Film Festival is one of the nation's largest and longest-running film festivals and features a variety of film genres. This globally-recognized non-profit organization and cultural event presents the best in cinema, American independent films, and documentaries. Catch a piece from a veteran filmmaker or first-time directors!

Oktoberfest is a popular event that takes place each year in Nashville's Germantown neighborhood. This lively event hosts a variety of events, including live German music, the Dachshund Derby, a stein-holding competition, world-class beer and food, and vendor tents.

Sports fans will enjoy supporting Nashville's five professional sports teams. The Nashville Predators, Tennessee Titans, Nashville SC, Nashville Sounds, and Nashville Golf Open all call the city home. Whether you're a fan of professional football, soccer, golf, hockey, or baseball, sports lovers can stay busy cheering for their favorite teams all year long.

The Shelby Golf Course is an 18-hole public course situated on a picturesque landscape that is close to the nine-hole riverfront VinnyLinks Golf Course.
Job Opportunities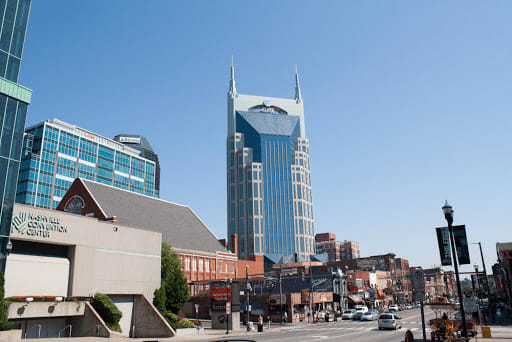 Image courtesy of Nashville Guru
One of the biggest draws to an area is potential employment prospects and Nashville's job market is healthy with a low cost of living in comparison to other large American cities.

Although the unemployment rate in Nashville is currently matching the national average of roughly 11 percent, the city continues to offer a variety of employment prospects—many of which are expected to bounce back as the economy recovers post-COVID-19.

Aspiring country music artists and producers flock to Nashville, as it is the world's center for country music. The city is also home to headquarters for other industries, such as automotives with Nissan's operations based in the area and Bridgestone Americas owning a building downtown and sponsoring the arena where the Preds play and many concerts take place. Other Fortune 500 companies can also be found, such as Tractor Supply Company, Community Health Systems, Dollar General, and Hospital Corporation of America.

Several new offices have already added many jobs to the area as well. AllianceBernstein plans to employ 1,250 workers, Pilot.com announced 450 jobs, and Ernst & Young has added 600 tech positions. And that's not all. SmileDirectClub announced over 2,000 new jobs and a $217 million investment in the Nashville HQ, while Amazon's offices will create 5,000 jobs with salaries over $150,000.

Interested in learning more about relocating to Nashville or surrounding communities? Contact Shane McCarty today. His dedication and experience as a real estate agent will help ease the process of finding the perfect piece of Nashville luxury real estate to meet the needs of any homebuyer!