Nashville is known for good music, good friends, and good food. Whether you're catching up with friends or enjoying takeout at home, brunches are a beloved way to kick off the weekend. Here are fourteen can't-miss brunch spots in Nashville to add to your routine.
The Gulch is a hotspot for young professionals, and Milk & Honey perfects the balance between timeless and trendy. Originally based in Chattanooga, this coffeehouse crafts hearty, homestyle meals and fizzy cocktails alongside a robust selection of espresso and tea drinks to start your weekend off on a high note. Whether you're biting into a gooey, brioche cinnamon roll with a vanilla bean latte or a buttermilk biscuit sandwich with citrus sangria, Milk & Honey is a casual, local favorite that stays true to its Tennessee roots.
This Brentwood brunch spot is a cozy coffeehouse and café that specializes in sweet and savory crêpes. With a spacious outdoor patio, a light and airy interior, and a menu of dazzling brunch must-haves, The Perch will quickly become a frequent in your brunch program. Their selection of traditional and signature espresso drinks and coffee-free lattes are perfect for a crisp morning—like a steaming caramel macchiato or their specialty honey turmeric latte. In addition to their must-try crêpes, The Perch serves other brunch favorites, such as Belgian waffles, breakfast burritos, and shrimp and grits.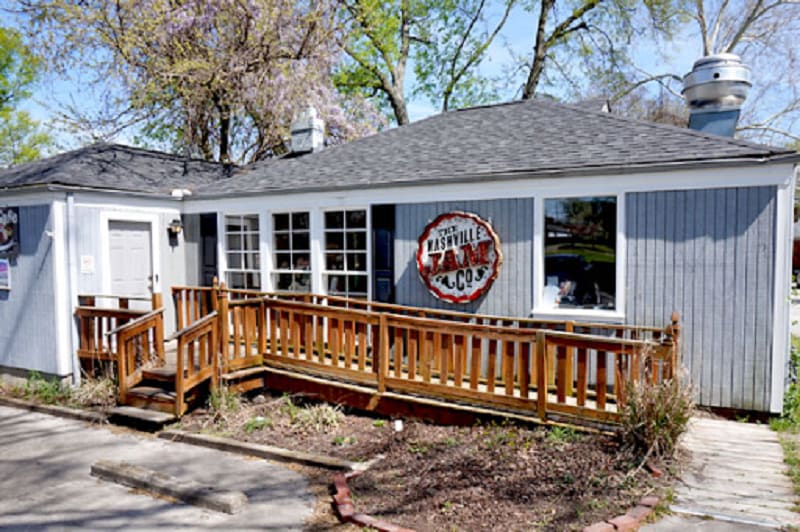 Credit: Urban Dining Guide
Local jam makers from The Nashville Jam Co. operate The Nashville Jam Cafe, where brunch is a can't-miss event. With a decadent menu ranging from eggs Benedict with smoked pork shoulder to sweet and filling stuffed French toast, you'll want to make sure you order a biscuit basket with a side of jam to get a taste of this café's namesake condiment. Expect classics with a Southern flair when you step inside The Nashville Jam Cafe—think fried green tomatoes in a wrap with scrambled eggs, pimento cheese, and bacon omelets, and hot chicken biscuits. After brunch, be sure to stop into the shop and browse their array of homemade jellies and jams, which come in unique flavors such as strawberry jalapeño and apple bourbon, as well as classics like peach and blueberry.
The Sutler Saloon
The Sutler Saloon is known for its storied past and tradition of live music. They're renowned for their musical guests and Southern fare, which culminates in the Bluegrass Brunch on the weekends. Pair your weekend revelry with live bluegrass music as you dig into a plate of sweet potato pancakes and sip on bottomless mimosas. If you don't have a hankering for decadent brunch plates, don't worry. The Sutler Saloon's menu also boasts a wide array of savory dishes, such as chilaquiles, smoked brisket hash, and breakfast tacos. Brunch runs from 10 AM to 2 PM every Saturday and Sunday and is seated as room permits, so you'll want to make sure you show up early to snag a table.
Beloved by students at Vanderbilt and Belmont Universities, The Pancake Pantry is a Hillsboro Village staple that's worth standing in line for—and you'll likely have to! This pancake house has become renowned since opening its doors in 1961 and often boasts lines out the door, down the sidewalk, and around the corner, but one taste of their fluffy, signature pancakes makes it all worth it. Pancakes aren't the only thing on the menu at this famous eatery. Their well-rounded menu includes a selection of egg-based dishes, hash browns, waffles, and omelets. Pair your meal with endless refills of coffee or a mug of hot chocolate, and enjoy a classic Nashville brunch.
This East Nashville favorite is a cozy bakery with a rustic ambiance that's the best spot in Nashville to grab a kolache. These Tex-Czech traditional pastries consist of a sweet, yeast-based dough containing fruit, poppy seed, or cheese fillings. Once you try one, you'll understand why these decadent baked goods have swept the nation and celebrate their bohemian roots. In addition to their signature kolaches, Yeast Nashville offers a variety of daily specials such as cinnamon rolls, blueberry or savory muffins, bread pudding, and crustless quiche. During the age of COVID-19, Yeast Nashville is offering pick-up service only, so swing by and take home an order of delightful baked goods for a laid-back brunch at home.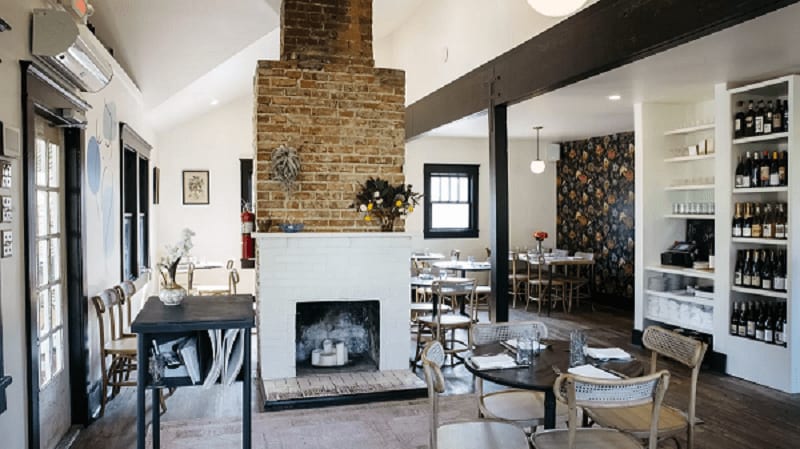 Credit: Eater Nashville
Trendy lou nashville, which opts for a casually stylized all-lowercase look, is a New American restaurant in East Nashville's Riverside Village whose quirky blend of Californian cuisine and European flair creates a one-of-a-kind menu. With an all-day brunch menu and an effortlessly classy selection of fares, including an all-natural wine program, lou is a chef-driven experience that is sure to satisfy. During the week, lou is only open in the evenings, but this eatery opens up early on the weekends for elegant brunches in a renovated Craftsman home.
You can always find vegan eats at Graze Nashville. With an upscale ambiance and a down-to-earth attitude, Graze puts fresh ingredients at the forefront of their menu. This Lockeland Springs staple offers a plant-based spin on brunch favorites, like their sausage, egg, and cheese biscuit made with vegetarian sausage, tofu egg, and non-dairy cheese. Other menu items include hot tempeh biscuit bowls, gluten-free pancakes of the week, and breakfast burritos made with seitan chorizo. Served Friday, Saturday, and Sunday mornings, Graze's brunch menu is always 100% plant-based and can be enjoyed from 10 AM to 3 PM.
In Hillsboro Village, what once was a pet store has been transformed into one of the neighborhood's hippest coffee shops, Fido. This café serves a delightful menu of restaurant-style fares in a calm setting amidst Hillsboro's 21st Avenue South. Open daily from 7 AM to 2 PM, Fido is an excellent brunch hotspot with all-day breakfast and lunch options for the best of both worlds. Enjoy one of their signature drinks, which change seasonally and blend surprising flavor combinations that you won't find in an ordinary coffee shop.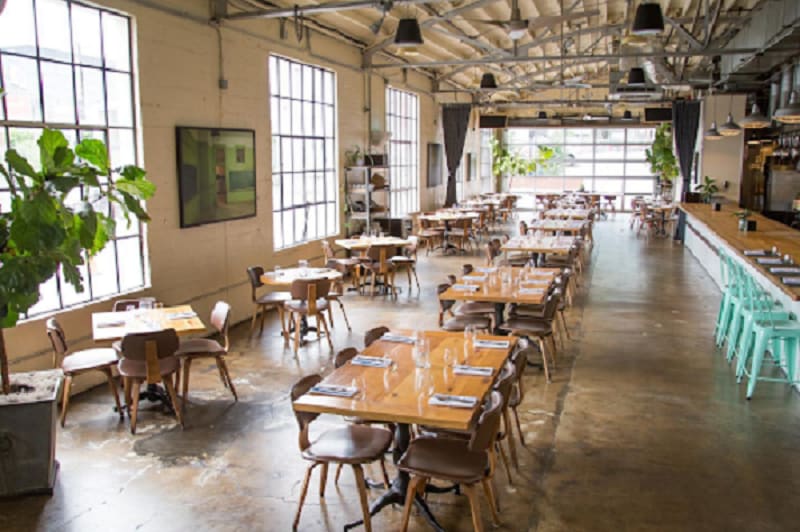 Credit: Adele's via Facebook
Near Downtown in the Gulch, Adele's is a farm-to-table restaurant with a dedication to fresh, seasonal comfort food—and nowhere does brunch quite like them. Served on weekends, their hearty brunch menu ranges from shareable buttermilk biscuits and gravy to veggie frittata with mixed greens. Their homestyle cooking is always crafted with locally-sourced ingredients, so you know that every bite on your fork is farm-fresh.
Operated by award-winning chef Deb Paquette, at this Green Hills establishment, you'll find a Southern spin on global fares to satisfy any craving. Chef Paquette was the first woman in Tennessee to qualify as a certified executive chef, and she brings her passion and ambition for food to the table at etc. restaurant. For brunch, head to this charming outpost on Sunday mornings for a selection of unique flavors, from stuffed filo cakes with orange ginger sourdough filling to meatloaf and fried egg sandwiches.
A Charleston classic has made its way to East Nashville with Butcher & Bee, and this offshoot has just as much spunk as the original. Butcher & Bee takes a hip approach to Southern dining, and their weekly menus ensure that guests always enjoy the freshest ingredients available. With a variety of plant-based and gluten-free options, Butcher & Bee boasts an accessible menu that makes it easy to enjoy a meal that suits your dietary needs and preferred lifestyle.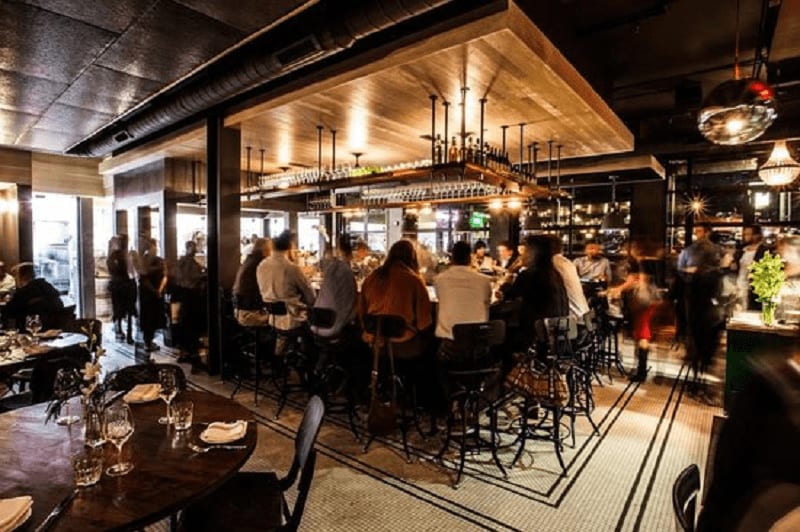 Credit: Tripadvisor
On 12th South, Josephine crafts brunch dishes that you won't be able to resist. Josephine's menu runs the gambit of brunch options with everything from double cheeseburgers to pecan sticky buns. Whether you're craving something light like their Rally House Farm Lettuce salad or want to try their signature "Take a Nap" plate with a hearty portion of home fries, grits, and sausage gravy with two eggs, Josephine serves up a brunch you won't be able to forget.
One of Nashville's most well-known eateries is Biscuit Love. With two Nashville locations—one in the Gulch and one in Hillsboro Village—you have plenty of options for mouthwatering biscuits. Try their gooey biscuity take on the traditional cinnamon roll, Southern-style eggs Benedict, or some fried chicken with your biscuit. But that's not all that's on the menu—enjoy whipped yogurt with tart cherry jam, a side of cheese grits, or a plate of eggs any style.

If you're interested in learning more about Nashville luxury real estate or homes for sale near Belmont University, don't hesitate to contact me for more information. This vibrant community is brimming with new possibilities.