Recent graduates and young professionals are often drawn to city life. The endless action that places such as New York and San Francisco provide can be attractive, but the cost of living and limited growth potential deters most people.

That's why so many young professionals are starting their careers in Nashville, specifically those aged 25-34. This city provides young professionals with endless opportunities to grow, places to explore, and things to do, all at a reasonable price.
A City of Careers
Nashville is consistently ranked one of the top cities for young professionals for several reasons. First, the city has a higher median income than the country's average. The average cost of rent is a little high, but when you factor in the higher income average and compare it to other cities, it's more than doable.

You might think the move to Nashville is only wise if you're pursuing a career in music, but that isn't true. The local industry landscape is diverse, allowing people of all skills to start their careers in Nashville. The technology and health care industries are the top two employers in the city. Nashville is home to several large and well-known companies and also fosters growth as a startup hub. Nashville also has a large group of mentors and networking options, perfect for recent college graduates.

The pool of jobs in Nashville is constantly growing, giving it a high ranking among the nation's best big cities when it comes to the job market. In the past year, Nashville had an unemployment rate of only 2.6%. Not only is Nashville a great place to start your career, but it's also a great place to grow it. For years Nashville has been growing, and it doesn't appear to be slowing down anytime soon.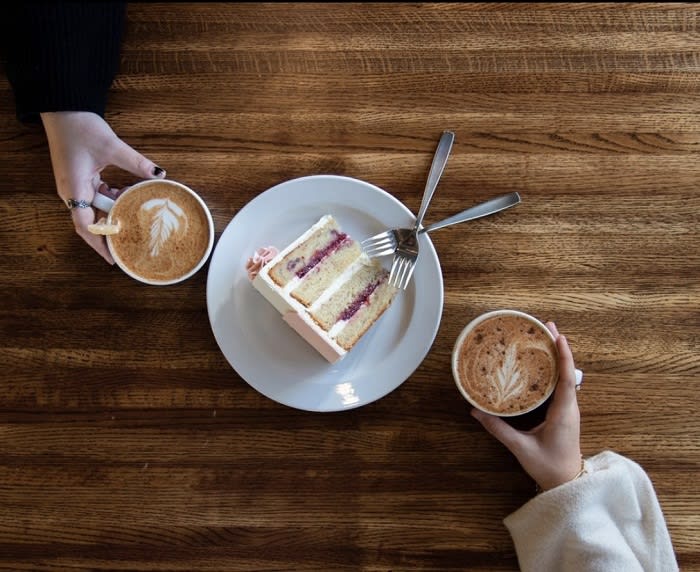 (Credit: Frothy Monkey)
Fabulous Food for All
As a young professional, dinner and drinks are an essential part of your week. Young professionals are known for exploring the city and all the newest restaurants with friends after work. Luckily, Nashville has an endless amount of places to eat and chat. Whether you're down for some hot chicken, traditional barbecue, or a luxurious meal, you can find it in Nashville. Just to show you how many options there are for any mood, here's a list of the top restaurants in Nashville's most well-known food categories.

Hot chicken is a Nashville staple, and these restaurants know how to do it right:
◾ Hattie B's Hot Chicken
◾ 400 Degrees Hot Chicken
◾ Big Shake's Hot Chicken and Fish
◾ Bishop's
◾ Red's 615 Kitchen
◾ Party Fowl
◾ Prince's Hot Chicken Shack
You can't move to Nashville without a plan to hit all the best barbecue joints. Luckily for you, we've done the hard work for you:
◾ Martin's Bar-B-Que Joint
◾ Jack's Bar-B-Que
◾ Loveless Café
◾ Peg Leg Porker
◾ Edley's
◾ Puckett's Grocery and Restaurant
◾ Bar-B-Cutie
When you're in the mood for a high-end meal, or maybe when your parents come to visit, Nashville also has great fine dining options. Some favorite spots include:
◾ Henrietta Red
◾ Kayne Prime
◾ Geist Bar and Restaurant
◾ Bourbon Steak
◾ Virago
◾ Rolf and Daughters
◾ Old School Farm To Table
◾ Ellington's
If you're looking to take your visiting friends and family to some of the most quintessentially "Nashville" restaurants for an Instagram-worthy photo, chances are they'll want to head to these places:
◾ Pinewood Social
◾ Frothy Monkey
◾ Biscuit Love Gulch
◾ Bobbie's Dairy Dip
◾ Pancake Pantry
◾ The Southern Steak and Oyster
◾ Merchants
As you can see by now, the dining options here are endless. As young professionals start to navigate adult life, access to all types of foods is a must. If you're a foodie, Nashville just might be the best place for you!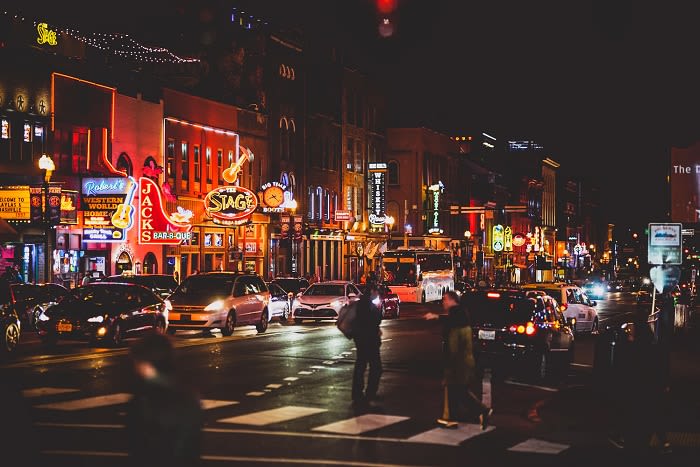 Stylish and Affordable Spaces
Having an affordable yet stylish new space to live in is important for many young professionals. In Nashville, you can live in up-and-coming areas with lively activities well within your budget. If you're a young professional looking to move to Nashville, check out these areas:
Downtown
Located in the heart of Music City is Downtown Nashville. This is one of the most popular and exciting areas for young professionals to live. The neighborhood is filled with modern apartments and condos. The median monthly rent in this area is $1,392. This fantastic location provides residents with an easy commute to work and a walkable distance to some of the city's best bars, restaurants, and venues.

Things to do, places to visit, and restaurants to eat at when living in Downtown Nashville:
◾ Musicians Hall of Fame and Museum
◾ Country Music Hall of Fame and Museum
◾ Tennessee State Capitol
◾ Ryman Auditorium
◾ Bridgestone Arena (home to the Nashville Predators)
◾ Nissan Stadium (home to the Tennessee Titans)
◾ Bourbon Street Blues and Boogie Bar
◾ The Southern Steak and Oyster
◾ Wild Beaver Saloon
◾ Skull's Rainbow Room
Germantown
Germantown is a more suburban area of Nashville, but don't underestimate its charm and accessibility. It's home to several renovated Victorian apartments with an average monthly rent of $1,502. Germantown is perfect for those who want a little of both excitement and peace. It's close to the more bustling areas, but its historic European vibes make it ideal for an evening stroll or a night on your patio.

Things to do, places to visit, and restaurants to eat at when living in Germantown:
◾ Tennessee State Museum
◾ Nashville Jazz Workshop
◾ The Back Corner
◾ Germantown Pub
◾ 5th and Taylor
◾ Henrietta Red's Raw Bar
◾ Steadfast Coffee
◾ Nashville Farmers' Market
◾ O-Ku
◾ The Cupcake Collection
◾ Sedona Taphouse
◾ Monell's Dining and Catering, Inc
◾ Butchertown Hall
◾ Brooklyn Bowl
◾ The Back Corner
◾ Nashville Food Adventures
◾ Local Tastes of Nashville
The Gulch
Located in a small corner of Downtown Nashville is an artsy neighborhood called The Gulch. This is one of the most popular places for singles and young professionals to live because everything is accessible. The Gulch is a short commute to major companies and walking distance to excellent dining and bars. The area is mostly filled with condos, apartments, and studio lofts that draw in monthly renters. The average monthly rent in The Gulch is $1,625.

Things to do, places to visit, and restaurants to eat at when living in The Gulch:
◾ Gulch Night Market
◾ First Art Museum
◾ Six Instagram-worthy murals
◾ Yazoo Brewing Company
◾ Salsa Puerto Rican and Latin Cuisine
◾ Party Fowl
◾ Adele's
◾ Barista Parlor Golden Sound
◾ Biscuit Love
◾ Burger Republic
◾ Emmy Squared
◾ I Love Juice Bar
◾ Kayne Prime
◾ Two Old Hippies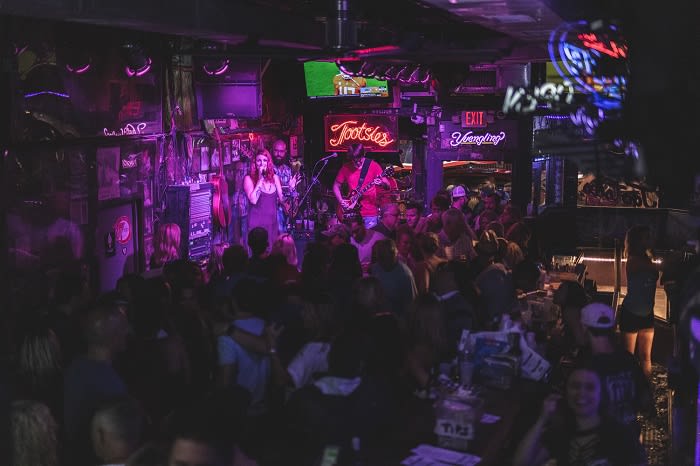 Midtown
Midtown is one of the trendiest areas in Nashville. It's home to several apartment complexes, perfect for young professionals to rent. The median monthly rent is $1,187. During the fall, the sidewalks are lined with colorful leaves to accompany you on your walk. Midtown is also safer than 10% of cities in Tennessee.

Things to do, places to visit, and restaurants to eat at when living in Midtown:
◾ The Parthenon
◾ Hattie B's Hot Chicken
◾ Centennial Park
◾ Pancake Pantry
◾ Music Row
◾ Vanderbilt University
◾ Play Dance Bar
◾ The French Shoppe
Music Row
Finally, we come to Music Row, one of the most entertaining areas in Nashville. It's home to the recording industry and features some of the best live music in the city. On Music Row, you'll find famous studios and labels. It's clearly a great place for musicians, but it's also a prime spot for others. Music Row is located between Midtown and Downtown, which provides residents access to all that Nashville offers. The area is filled chiefly with lofts and apartments for rent. The average median monthly rent is slightly cheaper than other areas at $1,092.

Things to do, places to visit, and restaurants to eat at when living in Music Row:
◾ Belmont Mansion
◾ Music Row Walking Tour
◾ Tin Roof
◾ Bobby's Idle Hour
◾ The Patterson House
◾ Just Love Coffee Café
◾ Taco Mamacita
◾ Five Odd Fellows
Regardless of which area you choose to call home, you'll have everything you need within a short commute. These areas are home to many other young professionals, giving residents a sense of community as they learn to navigate a new life. Nashville has big-city amenities, but its community of young professionals provides a small-town feel.

If you're a young professional looking to start your career in one of the fastest-growing cities in the nation, head to Nashville. Regardless of what kind of commitment you're looking for, the city has it all, from condos to apartments to homes. Chances are you'll fall in love with the city, so when you're ready to make that big move and purchase your first home, contact Shane McCarty. From East Nashville real estate to The Gulch real estate, Shane McCarty is committed to finding the perfect place for his clients.